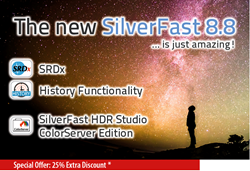 Sarasota, Florida (PRWEB) December 14, 2015
LaserSoft Imaging, a worldwide leader in the production of scanner and image editing software, has officially released SilverFast 8.8. Complete with an array of new features coupled with improved performance, LaserSoft Imaging introduces the newly developed dust and scratch removal tool, SRDx, improving upon critically acclaimed software quality and user accessibility: redefining the standard. LaserSoft Imaging tops off its new release with the addition of a new History function and an optional HotFolder.
The use of software for the removal of an image's dust and scratch irregularities poses a huge challenge. When scanning transparency originals, tools like iSRD or ICE are able to aid in an image's recovery process through their utilization of a Scanner´s infrared channel data. But what does one do when a Scanner does not possess an infrared channel or when this technology simply cannot be used, like on black and white film, Kodachrome and prints? In the past, a very time consuming, manual touch-up would have been the only option. However, with SilverFast's new and innovative next-generation dust and scratch removal technology, SRDx, perfect results are now acquired with ease and effortlessly obtainable by users of all skill levels. This is made possible by a completely new operating concept and the use of an array of specifically designed algorithms.
Also present is a newly developed History-Function, which remembers and displays every step of the editing process. Utilizing the help of preview images, this new feature enables the user to easily backtrack through a image's editing history.
An optional feature for SilverFast HDR Studio 8.8 and Archive Suite 8.8 is the all new HotFolder. This new feature automatically processes image data according to your image optimization specifications and parameter settings in regards to image-size and resolution. The user has only to determine the desired SilverFast optimizations for the "Input" folder, or HotFolder. SilverFast then monitors this folder itself and whenever new image data is made available, it will be automatically processed by SilverFast according to its pre-defined parameters.
For more information, please visit http://www.silverfast.com
« SilverFast - Pioneer & Expert in Digital Imaging »
About LaserSoft Imaging® AG:
LaserSoft Imaging was founded in 1986 by physicist Karl-Heinz Zahorsky, inventor of the patented SilverFast Multi-Exposure and the patentedSilverFast Auto IT8-Calibration. LaserSoft Imaging is a world-renowned pioneer of scanner and digital imaging software. The range of SilverFast products include software for scanners, printers and HDR-Image-Processing. For IT8 calibration, LaserSoft Imaging produces its very own high quality targets. The Company's distinguished software SilverFast has also drawn high acclaim, receiving the EDP Award for best color management software of the year.
Contact:
LaserSoft Imaging AG - Headquarters
Philipp Haarlaender
Luisenweg 6 - 8
D-24105 Kiel
Tel: + 49 (0) 431 560 09 - 0
Fax: + 49 (0) 431 560 09 - 96
Web: http://www.SilverFast.com
Email: philipp(dot)haarlaender(at)silverfast(dot)com
LaserSoft Imaging, Inc. - US Operations
Darren Vena
7441 N. Tamiami Trail
Sarasota, FL 34243, USA
Phone + 1 941-351-9400
Fax + 1 941-351-9402
Web: http://www.SilverFast.com
Email: darren(at)silverfast(dot)com