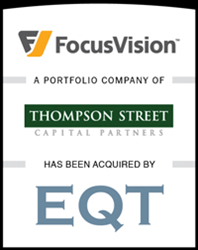 CHARLOTTE, NC (PRWEB) January 19, 2016
BlackArch Partners is pleased to announce the sale of FocusVision, a portfolio company of Thompson Street Capital Partners ("TSCP" or "Thompson Street"), to EQT Mid Market. Headquartered in Stamford, Connecticut, FocusVision is the global leader in technology-enabled services in the marketing research and intelligence industry.
Founded in 1990, FocusVision (https://www.focusvision.com) provides integrated qualitative, quantitative and research management tools built to support marketing research and intelligence professionals. The offering includes end-to-end quantitative survey platforms, focus group and online interview streaming, reporting, project management and more. Organic and acquisition-based strategic initiatives have enabled FocusVision to grow the platform's geographic footprint, significantly increase the company's SaaS revenues and augment the business's already-strong management team. The Company executes globally through 10 offices across five continents and serves 70%+ of the Fortune 100.
BlackArch was retained by Thompson Street Capital Partners and management to serve as their exclusive financial advisor.
About Thompson Street Capital Partners
Thompson Street Capital Partners ([http://www.tscp.com) is a St. Louis-based private equity firm focused on investing in founder-led middle market businesses headquartered in North America. Founded in 2000, TSCP partners with companies in the business services, healthcare services and engineered products sectors and creates value by supporting accelerated growth.
About BlackArch Partners
BlackArch Partners is a leading middle-market investment bank offering a full spectrum of advisory services to financial sponsors, private companies and diversified corporations. BlackArch addresses the needs of owner-operators, founders and shareholders of private companies with specialized services that include M&A advisory, strategic advisory and private capital solutions. Headquartered in Charlotte, NC, with offices in Houston, TX, BlackArch features a total of 12 industry-focused practices that cover all sectors of interest to middle-market investors; BlackArch professionals have closed more than 300 transactions in 16 countries on four continents. Please visit our website, blackarchpartners.com, for more details.
Securities offered through BlackArch Securities LLC. Member FINRA and SIPC. Testimonials may not be representative of the experience of all clients. Testimonials are not a guarantee of future performance or success.