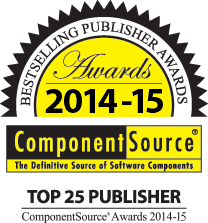 (PRWEB) December 15, 2015
LEAD Technologies, the developer and publisher of LEADTOOLS Imaging SDKs, has been awarded multiple ComponentSource Bestselling Product and Publisher Awards. ComponentSource has been a global distributor for LEAD Technologies since 1995. Starting in 2006, ComponentSource began recognizing top products and publishers based on global sales orders for the year. LEAD and LEADTOOLS have been recognized every year. This year, recognition is shown with two sets of awards: ComponentSource Bestselling Product Awards for 2014-2015 and ComponentSource Bestselling Publisher Awards for 2014-2015.
For 2014-2015, LEAD Technologies was recognized as a Top 25 Bestselling Publisher. LEADTOOLS Document Imaging Suite, Document Imaging and PACS Imaging were recognized as Top 100 Bestselling Products.
These awards show that LEAD and LEADTOOLS consistently offer developers great expertise and value for many imaging-related technologies. LEAD remains dedicated to helping developers integrate raster, document, medical, multimedia and vector imaging into their desktop, server, tablet and mobile applications.
About LEADTOOLS Document Imaging
LEADTOOLS Document Imaging features include PDF viewing and editing, comprehensive annotation and markup, specialized bitonal image display and image processing, performance and memory optimizations for bitonal images, document image cleanup, and LEADTOOLS Fast TWAIN. Go to https://www.leadtools.com/sdk/document-imaging for more information.
About LEADTOOLS Document Imaging Suite
LEADTOOLS Document Imaging Suite SDK is a comprehensive collection of document features designed to build end-to-end document solutions that require OCR, MICR, OMR, ICR, barcode, forms recognition and processing, PDF, print capture, archival, annotation and display functionality. Document Imaging Suite includes Document Imaging's feature set. Go to https://www.leadtools.com/sdk/document-imaging-suite for more information.
About LEADTOOLS PACS Imaging
LEADTOOLS PACS Imaging features include a Medical Web Viewer Framework, high and low-level PACS SCP and SCU functions and controls, secure PACS communication, comprehensive DICOM data set support, annotation and markup, extended grayscale image display such as window level and LUT processing, and specialized medical image processing. Go to https://www.leadtools.com/sdk/pacs-imaging for more information.
About LEAD Technologies
With a rich history of over 25 years, LEAD has established itself as the world's leading provider of software development toolkits for document, medical, multimedia, raster and vector imaging. LEAD's flagship product, LEADTOOLS, holds the top position in every major country throughout the world and boasts a healthy, diverse customer base and strong list of corporate partners including some of the largest and most influential organizations around the globe. Contact sales(at)leadtools(dot)com or support(at)leadtools(dot)com for more information.
About ComponentSource
ComponentSource was established in 1995 to ensure software developers were supplied with the best software development products the world had to offer. ComponentSource pioneered the open market for reusable software components and tools, through innovative use of electronic software delivery (ESD). Today, ComponentSource offers the world's best collection of labor saving software through their eCommerce Web Sites; carrying more than 10,000 SKUs from more than 250 publishers. They have offices in the USA, UK and Japan supporting more than 125,000 customers in over 180 countries. Go to https://www.componentsource.com for more information.