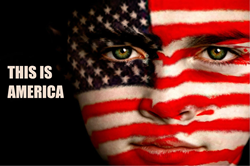 I think somehow patriotism became uncool over the last 10 years. It kind of went out of style and I don't know why.
Los Angeles, CA (PRWEB) December 14, 2015
When Justin Tranchita first heard that 2016 Republican Presidential Candidate Ben Carson had chosen one of his songs "This is America" for his campaign, the singer wasn't sure why at first. Then he got to know Carson.
"The reason I like Ben is because he's a person of substance, he's a person that believes in something," Tranchita said. "I think Americans, I think our generation, the Millennials, I think we kind of lost our faith. I know I did. And so I really have a respect for people who have a say in anything. I'm interested in people who believe in something bigger than themselves, because I know in my life that I am not the center of the universe. I am not the sun that the planets spin around."
Still, Tranchita has a way of drawing attention to himself. The singer-songwriter, actor and filmmaker recorded "This is America" for his new album of country songs, "American Man," due in early 2016. An early version of the song appeared in 2014 when Tranchita used his iPhone, Mac and $300 to make a rough video. It immediately got attention for the star of the Discovery Channel's "Game of Pawns" reality television series, then took off in unexpected directions when Carson's campaign formally released the song with slight alterations to the lyrics to underscore the candidate's message.
"Wow, what a shock and surprise that was that it garnered the attention it did," Tranchita said. "And then after Ben Carson's people picked it up it's really kind of taken on a life of its own. It's pretty impressive. And it's definitely unexpected for that particular song."
Written by Tranchita's friend and producer Steve Messer – over a meal at the Americana-themed Cracker Barrel – the song tackles what it means to be American in a very straight-forward way. Tranchita wasn't sure if he'd record it after Messer shared it with him because he meant for "American Man" to be a very personal album. But over time he realized that his story was very American.
After all, he's worked his way from homelessness to famous employing a faith-above-all work ethic that's carried him through dark times to the vanguard of the public debate over what patriotism means.
"I want the country to be great again, I want the country to be what it once was," Tranchita said. "I think somehow patriotism became uncool over the last 10 years. It kind of went out of style and I don't know why."
Fans can learn more about Tranchita's fascinating journey when he releases "American Man," an album that started with unexpected attendance at the Academy Awards. It was an unlikely spot for a guy who used to live in his car to end up, and the moment was not lost on the Illinois native and current Detroit resident. His resurgence started several years earlier, and fittingly it started with a song – "Devil Song." The cut from his album "Cock of the Walk" became a hit in the United Kingdom, helping him win the Exposure Music Awards trophy for Best International Act in 2012.
Soon after he was cast in "Game of Pawns": "I was the funny guy on the show. I was the idiot." That good humor opened more avenues for Tranchita. He starred in and executive produced the award-winning short film "Thicker Than Water" and other film projects and began work on "American Man."
"I've been rich, I've been poor, I've been famous, I've been a nobody," Tranchita said. "For me now, my music and my talents, I want to use that to help people who are downtrodden. Because I get it. I was that guy. I was the guy trying to get a waiter job so that I could get myself into an apartment after I lost everything. So I get it. There's something special to me about rebirth and about taking something that was nothing and making it something. That's very important to me."
###
Billboard link: http://www.billboard.com/articles/chart-beat/real-time-charts/6785611/justin-tranchita-ben-carson-campaign-theme-this-is-america