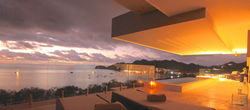 "I was attracted to Punta Bocana the minute I walked into a penthouse," recalls Valenzuela. "I got the sensation that the outside and inside were completely defused because the living room and the terrace were joined as one."
Herredura, Costa Rica (PRWEB) January 12, 2016
World renowned architect Abraham Valenzuela brings 35 years of architectural experience to Punta Bocana, with a reputation for fashioning exceptional homes and amazing commercial environments in the most exclusive areas of San Jose, Tamarindo, Nosara and Guanacaste, to name a few. Valenzuela's primary task will be to enhance the Master Design Plan for the exclusive Punta Bocana ocean front residences. Pricing structure on these astounding properties range from $1 to 6 Million USD.
Set 200 feet above the sapphire Pacific Ocean, each residence features an uncompromising vista of spectacular sunsets including the whitewater breakers of Cabo Blanco Island. All homes come with personalization beyond compare, another service now offered by Valenzuela. One of the major factors that drew the architect to this luxurious development is that each residence boasts its own infinity pool on the veranda, creating a feeling of being suspended in space, with the majestic ocean as its backdrop.
"The lack of walls allows an inner energy to flow throughout from the living room to the pool. Peacefully drifting from inside to the outer space is what attracted me to work on this project; it shares my vision about what architecture should do for the mind and body. I am always trying to create a connection between the inside and outside environments. Once inside, the outside belongs to you and your imagination. With picturesque views like this, you feel isolated from all other buildings."
Valenzuela's visionary new master plan will incorporate the already existing indulgences - the soaring expanse views, the private elevators, and vast penthouse spaces customized by the architect himself.
Concludes Valenzuela: "I joined the project because the base that already exists at Punta Bocana is beautiful and the only place to go from here is up."
For more information on Abraham Valenzuela, please visit http://www.valenzuelaarquitectos.com