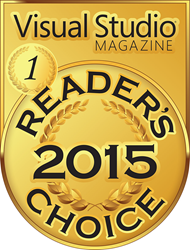 Charlotte, NC (PRWEB) December 15, 2015
LEAD Technologies, the developer and publisher of LEADTOOLS Imaging SDKs, is pleased to announce that LEADTOOLS has won three Visual Studio Magazine Reader's Choice Awards. LEADTOOLS Imaging SDKs have been recipients of Visual Studio Magazine awards every year since 2003. The 2015 winners were chosen by the readers of Visual Studio Magazine and honor the best Visual Studio-related tools and services in 31 categories. The online ballot, which was compiled by the editors of Visual Studio Magazine, included more than 400 products.
Visual Studio Magazine readers award LEADTOOLS Gold in two categories and Bronze in a third:
LEADTOOLS Imaging Pro
Gold in Component: Imaging, Image Processing & Drawing Tools Category
Document Imaging Suite
Gold in Component: Multi-Document Processing Category
LEADTOOLS Barcode Pro
Bronze in Component: Text, OCR, Scanning & Barcode Category
Visual Studio Readers honor LEAD as the recipient of these awards. LEAD continues to be dedicated to helping developers integrate raster, document, medical, multimedia and vector imaging into desktop, server, tablet and mobile applications.
About LEADTOOLS Imaging Pro
LEADTOOLS Imaging Pro features includes more than 150 image formats, image compression, image processing, image viewers, more than 200 display effects, TWAIN scanning, screen capture and printing. Go to https://www.leadtools.com/sdk/imaging-pro for more information.
About LEADTOOLS Document Imaging Suite
LEADTOOLS Document Imaging Suite SDK is a comprehensive collection of document features designed to build end-to-end document solutions that require OCR, MICR, OMR, ICR, barcode, forms recognition and processing, PDF, print capture, archival, annotation and display functionality. Go to [https://www.leadtools.com/sdk/document-imaging-suite for more information.
About LEADTOOLS Barcode Pro
LEADTOOLS Barcode Pro includes everything developers need to detect, read and write more than 100 different 1D and 2D barcode types and sub-types such as UPC, EAN, Code 128, QR Code, Data Matrix and PDF417. Barcode Pro includes the Imaging Pro feature set which makes it one of the best values in barcode imaging technology available. Go to https://www.leadtools.com/sdk/barcode-pro for more information.
About LEAD Technologies
With a rich history of over 25 years, LEAD has established itself as the world's leading provider of software development toolkits for document, medical, multimedia, raster and vector imaging. LEAD's flagship product, LEADTOOLS, holds the top position in every major country throughout the world and boasts a healthy, diverse customer base and strong list of corporate partners including some of the largest and most influential organizations around the globe. For more information, contact sales(at)leadtools(dot)com or support(at)leadtools(dot)com.
About Visual Studio Magazine
Visual Studio Magazine provides news, analysis and articles that teach developers how to create applications with Visual Studio better, faster and more easily. The portfolio includes VisualStudioMagazine.com and .NET Insight e-newsletter, and the Visual Studio Live! and Live! 360 events. Their award-winning editorials reach software architects, senior developers and development managers – the core of the Microsoft developer community. For more information, visit https://visualstudiomagazine.com.