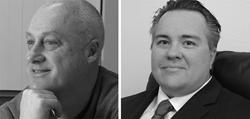 A four-dimensional approach: Define, Decide, Delegate, Develop.
Springfield, MO (PRWEB) December 14, 2015
In their recently published Ophthalmology Business article— "Plan to score with a goal-oriented event"—William B. Rabourn, managing principal and founder of Medical Consulting Group, and Louis Pennow, Hollingshead Eye Center's Chief of Financial and Operations, take the chaos out of organizing business retreats. The article is part two of a three-part series titled "Make your next retreat your best retreat."
In their first article, "Behind every successful retreat you'll find a good plan," Rabourn and Pennow stressed the importance of maximizing business resources when planning a retreat.
In this second article, they move on to organizing a focused event with a four-dimensional approach: "Define, Decide, Delegate, Develop."
To read the articles, visit ophthalmologybusiness.org and click on the digital September and December issues of Ophthalmology Business.
The third and final installment of Rabourn and Pennow's series will focus on determining retreat success and ROI. They remind retreat coordinators that, "Return on investment can't be determined in any meaningful way unless the criteria that will be used to define the success of the event have been established."
RABOURN
Bill Rabourn has nearly 27 years of comprehensive experience in business strategy with a specialty in medical business. He provides consulting and creative services to a select group of medical and surgical ophthalmology and plastic surgery practices. Visit MedCGroup.com to contact him or to learn more.
PENNOW
Louis Pennow has 25 years of experience in managing high-volume refractive and cataract practices. Visit HollingsheadEyeCenter.com to contact him or to learn more.