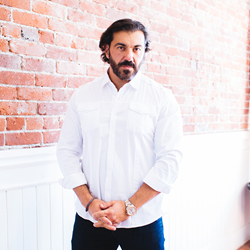 MohamedX is taking the music game by storm with his unique style of hip-hop inspiration.
Irvine, Calif. (PRWEB) December 15, 2015
Bedros Keuilian, creator of PTPower and founder of Fit Body Boot Camp, presents Fitness Business Summit, the 10th event in the series, taking place in Irvine, California. There will be coaching talks from industry experts as well as a networking event and expo room.
Fitness Business Summit 2016 will help fitness professionals, coaches, trainers and boot camp owners learn marketing techniques, gain referrals and succeed in the industry. The event will welcome anyone interested in increasing profits and reaching more clients, including niche market businesses and professionals new to the industry. Top fitness and business experts are dedicated to this weekend of fitness industry education.
Fitness Business Summit will include a poolside networking party on Friday the 18th where fitness industry professionals will be able to network with others at the top of their field. MohamedX, an athlete and rapper, will be performing at the event in the first ever live concert to take place at the cocktail party.
"Since this is the tenth annual Fitness Business Summit, we're turning the cocktail party into a live concert with Bay Area hip-hop artist and friend of our industry, MohamedX," Bedros explains. "MohamedX is taking the music game by storm with his unique style of hip-hop inspiration."
With parents that immigrated to the United States from Sierra Leone in West Africa, Mohamed has become a prominent artist in the Bay Area. Coming from San Jose, Mohamed uses his life experiences in his music. He has been an athlete and fitness professional for several years, and he enjoys motivating and inspiring others. MohamedX was a San Jose State Spartan and, later, a San Diego Charger.
Keuilian hopes that attendees will use the cocktail party to have a relaxing time and meet with other industry professionals to help further their business and make important connections.
In the special expo room, attendees will also be able to see new gear, software and technology and create relationships with suppliers.
Fitness Business Summit takes place March 18-20, 2016 in Irvine, California. Attendees are encouraged to wear fitness casual and comfortable clothing during the main event and bring cocktail party attire for the networking party. To learn more about the event, visit the official website: http://fitnessbusinesssummit.com/
About PTPower:
To find out more about Bedros Keuilian, his company PTPower.com and the fitness boot camp franchise, Fit Body Boot Camp, contact Bedros Keuilian at (800) 261-0208. Alternatively, you may use the contact form at http://ptpower.com/contact-me/ or send an email to Bedros Keuilian at support(at)keuilian(dot)com.