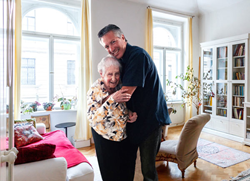 We are shifting the paradigm of aging, illness and dying from being a lonely, frightening experience to a natural process that can be experienced with joy and in savoring life's last moments
San Diego, Calif. (PRWEB) December 16, 2015
Dr. Bob Uslander announced today the opening of his new comprehensive health care service in the home, serving patients in the San Diego area with a special emphasis on the elderly and those with complex or end-of-life issues.
In addition to providing the highest level of medical care and guidance, Dr. Bob Uslander, who goes by "Dr. Bob," and his transformational healing team provide professional services not traditionally paired with concierge care, including: massage therapy, music therapy, yoga and meditation instruction, and acupuncture, as well as a gourmet chef. Dr. Bob's philosophy is that there is no group of people more deserving of and desperate for this type of holistic care than those facing complex medical challenges and the people who love and care for them. This is the only comprehensive, whole-person, in-home care program of its kind in the nation.
"It has been a lifelong dream for me to serve people in such a comprehensive and unique way," said Dr. Bob. "We are shifting the paradigm of aging, illness and dying from being a lonely, frightening experience to a natural process that can be experienced with joy and in savoring life's last moments."
In addition to providing concierge care in the home, Dr. Bob and his team engage in virtual coaching via the phone or internet. This Virtual Coaching Program involves a comprehensive assessment of the client's challenges and needs and provides guidance and support for navigating through these most effectively. This coaching is designed to reduce the stress and confusion that patients and their families usually experience when they do not have appropriate advocacy.
To learn more about Dr. Bob Uslander and his team, please visit http://www.drbobuslander.com.