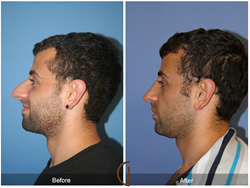 It is well known that teens often gain self-esteem and self-confidence from their physical appearance. This has led to an increase in procedures among this age group.
Newport Beach, CA (PRWEB) December 17, 2015
The celebrity, Yeung Wing, 26, who goes by the stage name "Angelababy" is extremely popular in China. She underwent a series of X-rays and a physical examination by a plastic surgeon who determine that she had not had any type of cosmetic procedure. Angelababy is suing a Beijing beauty clinic for defamation after the organization published an article alleging that she had undergone plastic surgery.
After the announcement had been made that Angelababy had not undergone plastic surgery, a great debate arose on social media about the veracity of the incident by both "AngelaBaby's" supporters and detractors. Dr. Kevin Sadati, Newport Beach facial plastic surgeon, states that "looks will change from when you were a teenager to when you become an adult. As you age, gravity, stress and other factors will have an influence on your appearance."
Around the world, from China to the U.S., plastic surgery has become a way to enhance beauty and self-esteem. In China, it can even improve career prospects. According to Dr. Sadati, "even minor changes can make a patient's face more proportional or symmetrical, enhancing both the physical appearance and the patient's overall self-esteem." However, he cautions teens on undergoing plastic surgery too early. "There are many common physical characteristics a teen may wish to change including a prominent or misshapen nose, protruding ears, overly large or small breasts, asymmetrical breasts and even severe acne and scarring."
It is well known that teens often gain self-esteem and self-confidence from their physical appearance. This has led to an increase in procedures among this age group. According to American Society of Plastic Surgeons (ASPS), 63,623 cosmetic surgical procedures were performed on people age 13-19 in 2013, while another 155,941 minimally-invasive cosmetic procedures were also performed on patients in this age group. Results have shown that successful plastic surgery can reverse the social withdrawal often seen among self-conscious teens, greatly improving their quality of life.
Though there can be many positive outcomes to teens undergoing plastic surgery, Dr. Sadati cautions that "patients should not undergo any cosmetic procedure without first speaking extensively with a highly trained and trusted facial plastic surgeon. A surgeon will assess the patient and determine if he or she is physically finished growing, mentally prepared, and can safely undergo a procedure. This is typically around age 17 or 18." The ASPS also cautions teens to understand the risks involved in plastic surgery. Teens should have realistic expectations about what plastic surgery is and what it can actually do for them. They should also note that certain milestones in growth and physical maturity must be achieved before a teen can safely undergo plastic surgery.
Dr. Sadati offers a variety of cosmetic procedures including rhinoplasty, neck lifts, facelifts, fat grafting, cheek augmentation, chin augmentation and more. As a board certified facial plastic surgeon and ENT specialist, Dr. Sadati has pioneered a variety of new cosmetic procedures which have been published in well known medical journals and adopted by other plastic surgeons. Dr. Sadati is a diplomate of the American Board of Cosmetic Surgery and a proud member of American Academy of Facial Plastic & Reconstructive Surgery and American Academy of Cosmetic Surgery. With his highly specialized skills, experience as a surgeon and trained artist, as well as use of twilight sedation and local anesthesia, Dr. Sadati offers patients a safe and effective way to get the look they desire.