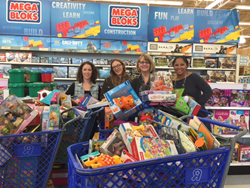 This event gave underprivileged children in the area something special to celebrate.
Houston, Texas (PRWEB) December 15, 2015
The Council on Recovery, an organization that provides support and treatment for addiction and related issues to the Houston and Austin communities, recently concluded its yearly toy drive for Houston-area children. This toy drive culminated in a holiday party December 12 at the organization's Houston office, during which toys were distributed to children in need and both Council employees and volunteers welcomed the children and their families to lunch and an array of activities.
Smith & Associates, the largest independent distributor of electronic components, is headquartered in Houston, and has participated in this local organization's toy drive for over fifteen years.
"We feel privileged each time we get to help The Council on Recovery support the local community," said Mark Bollinger, Smith & Associates' Vice President of Marketing. "Individuals and businesses from around Houston came together to contribute to the toy drive, which helped the Council continue its valuable work and offer families toys, food, diapers – things to make the holidays brighter. We are happy to have played a part."
In addition to donating toys to the Council on Recovery's drive, Smith employees were also given the opportunity to volunteer alongside other Houstonians at the holiday party and work hands-on with local children in activities like holiday ornament decorating.
"This event gave underprivileged children in the area something special to celebrate," continued Bollinger. "The Council's efforts each year help make the holidays brighter for children who really need it, and we're glad every time our employees are able to work with the Council and our community to help make a difference."
The Council on Recovery's website offers further information on volunteering and support opportunities, in addition to its programs for individuals and families in need.
About Smith & Associates
Founded in 1984, Smith & Associates is a global distributor of semiconductors and electronic components and a trusted provider of efficiency-enhancing supply chain services to electronics and high-tech manufacturers. Smith's investment in advanced in-house labs, a highly trained professional team, and strategically located global support centers offers our partners complete sourcing and inventory management solutions.
A privately held company, Smith & Associates employs more than 380 people worldwide, with annual revenue in excess of US $748 million. Smith's regional hubs in Houston, Hong Kong, and Amsterdam are ISO-certified. In addition, sales and purchasing offices are located in Austin, Silicon Valley, Guadalajara, New York, Shanghai, Shenzhen, Seoul, Taipei, Penang, and Bangalore. For more information, see http://www.smithweb.com/ or, to reach a Smith representative 24 hours a day, please call: 1.800.HOUSTON or +1 713.430.3000.
###
For more information, contact:
Mark Bollinger
Smith & Associates, V.P. of Marketing