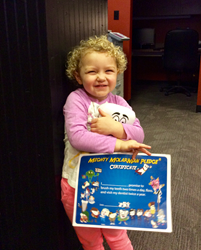 Take the Mighty MolarMan Pledge Today!
(PRWEB) January 11, 2016
This campaign, in honor of National Dental Health Month and National Pet Dental Health Month, invites families, healthcare professionals and educators to take The Mighty MolarMan Pledge. Dental and veterinary practices that take the pledge and give back to their community will be recognized on MightyMolarMan.com as a "SuperHero Practice". Information on how to be featured as a SuperHero Practice can be found on MightyMolarMan.com.
Of the seven major diseases that result in death in the United States, oral diseases are associated with six of them. In the hustle and bustle of everyday busy life, not to mention the ongoing battle with kids to brush, MightyMolarMan.com makes it easy to remember to make oral health a priority. With its zany cartoon characters, music, games and activities, the site makes brushing and the whole dental experience fun!
"The Mighty MolarMan Pledge starts with the acknowledgment and understanding that oral health affects our overall health and well-being," said Dr. John U. Bond. "The pledge is a promise to brush and floss daily, and see your dental healthcare professionals regularly. For healthcare professionals, educators, and parents, taking the pledge is not only a promise to optimize your oral health, but also to make dental health education and care a priority within your community and family."
Mighty MolarMan® and Canine® are also encouraging pet owners to include their furry family members in the pledge. By taking The Mighty MolarMan Pledge, pet owners promise to brush their pet's teeth daily, and visit a veterinary healthcare professional annually for cleanings and any other health care needs.
"We all get off track with our pet's dental hygiene habits from time to time too," said Dr. Bond. "Mighty MolarMan and Canine are always there to encourage and remind you, reporting back to the Tooth Fairy and your dental or veterinary practice about how you're doing. A promise is a promise!"
To take The Mighty MolarMan Pledge, visit http://www.mightymolarman.com/mightymolarman-pledge.
Keep the "molarmentum" going, by challenging a friend, colleague, a loved one … or challenge another family, classroom, practice or organization to take the pledge!
About MightyMolarMan.com
Based in Dallas, TX, Mighty MolarMan & Friends® launched MightyMolarMan.com in January 2015. This fun and entertaining website provides educational multimedia.