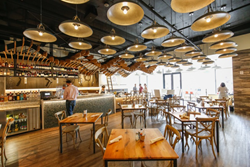 The handcrafted nature of the space reflects Arch11's dedication to finely articulated ideas realized in 3D.
Denver, CO (PRWEB) December 15, 2015
Award-winning architecture firm Arch11 continues to contribute fresh, contemporary entries to the Denver/Boulder area's thriving casual dining scene with two recently completed projects and another readying to open this month. While the Colorado architects have gained enviable recognition for projects ranging from exceptional residences to institutional planning, mixed-use development and product design, the firm is currently in high demand for its stylish approach to crafting the new-American dining experience at a time when Denver's booming restaurant business is a national leader for innovation.
Arch11's restaurant design portfolio includes such Denver and Boulder standards as Jax, Lolas, Bitter Bar and Oak at Fourteenth, which consistently ranks high on 5280 magazine's "Best Restaurant" list. And Bono was snapped power-lunching with Bill Clinton and Chelsea last June at Humboldt restaurant, another Arch11-design.
Most recently, Arch11 has set the stage for a cultured dining atmosphere in the city's tony Cherry Creek neighborhood with a design that melds elements of rustic East Coast oyster shacks with Denver's hip and artisanal dining trends. The open kitchen design and central shucking counter at Blue Island Oyster Bar highlight the growing desire for experiential dining where customers can see their food prepared.
"With baskets of oysters on ice right in front of diners, customers express how intimately connected they are to their food and the story of oysters," explains Arch11 principal and lead architect on the project Ken Andrews.
Repeat client Concept Restaurants, for whom Arch11 has designed Ignite! and Humboldt, decided to bring an authentic oyster bar to the Denver market and wanted a space to match its aspirations. Taking cues from well-worn beach-side oyster joints, Arch11 created a comfortable, communal atmosphere in the swank Cherry Creek North neighborhood, while successfully leaving nautical cliché behind.
Booths made of blue leather and weathered wood floors and wall paneling provide a coastal patina for Blue Island Oyster Bar, while an enlarged NOAA map of the Great South Bay of Long Island illustrates the exact origin of the bivalves. Over the bar, a striking array of oar-like elements alludes to the gentle effect of rowing across the water. Andrews notes that the handcrafted nature of the space reflects Arch11's dedication to finely articulated ideas realized in 3D. The seafood-centric dining spot was ranked in Eater Denver's top-five "stone-cold stunner" restaurant designs of 2015.
Arch11 has also helped establish the next classic neighborhood bar with recently opened Whiskey Tango Foxtrot. Located in the Prospect Park area near Coors Field where industrial loft conversions and high-density new-builds dominate, Arch11 was part of a collaborative team―assembled by the Tavern Hospitality Group―that envisioned "a timeless bar atmosphere that would be the social hub of the neighborhood," explains Andrews. "This is the place where well made, old-school cocktails are served and people might linger at the bar for hours," he adds.
Whiskey Tango Foxtrot's earthy palette of concrete, steel, and wood―highlighted with warm washes of soft golden light―sets a sociable tone with a splash of sophistication. And, at 3,200 sq. ft., the 1930s former bag factory offers an intimate drinking and dining experience (and a spacious rooftop deck) that distinguishes it from the ever-popular expansive craft beer halls populating the city.
Chef Steven Redzikowski (Eater Denver's Chef of the Year) and beverage director Bryan Dayton are the successful partners behind the Arch11-designed award-winning Oak at Fourteenth in Boulder. They've enlisted Arch11 once again to create their soon-to-open fast-casual rotisserie restaurant, Brider (named for the French word for "tying," a technique championed by the likes of Julia Child for optimal roasting results), which is set to open in the newly minted five-story Nichols Building in the rapidly developing Central Platte Valley.
"The space didn't have a history or patina of its own, so we had to create it," says Andrews. Settling on a timeless "old world" kitchen feel, Andrew's team applied a palette of classic materials to the interiors, including re-purposed oak, Carrara marble, chalkboard menus and steel to convey warmth and familiarity. A layering of textures, geometric wall planes and custom built-ins, along with "bright green flashes" of color and Knoll furnishings mingle the old-soul feel with the clean lines of modernism and the neighborhood's renewed vitality.
Additional new restaurant projects coming from Arch11 include a design for Sazza Pizza in the Stanley Marketplace―one of six restaurants selected to fill a spot in the 140,000-square-foot repurposed Stanley Aviation building at the edge of Stapleton that will feature about 50 independent local businesses.
The firm's approach to restaurant design—allowing the dining space to celebrate the food and the chefs who are creating it rather than inventing an overpowering atmosphere—provides a refreshing direction for chefs and restaurant groups hoping to capitalize on Denver and Boulder's ever-maturing palate.
About Arch11:
Founded in 1993, Arch11 has gained recognition for projects ranging from exceptional residences to institutional planning, mixed-use development and product design, including a 2009 Firm of the Year Award from the Colorado AIA North chapter. With offices in Boulder and Denver, Colo., Arch11 has over 30 combined years of green building technology leadership. The staff's unusual level of hands-on experience ranges from boat building to furniture making, contributing to its reputation for commitment to craft, detailing and design integrity. For additional information visit http://www.arch11.com.
Media Contacts: Darla Worden, WordenGroup Strategic Public Relations, darla(at)wordenpr(dot)com, 307.734.5335