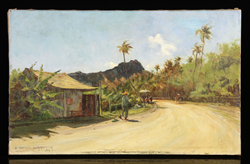 Beverly Hills, CA (PRWEB) December 15, 2015
Kaminski Auction's Annual Thanksgiving sale saw two strong days of prices and sell through at their special holiday auction held Saturday and Sunday, November 28th and 29th.
Day Two of the auction featured over 200 lots from the collection of Emily Hall Tremaine of Madison, Connecticut and Santa Barbara, California. An American heiress, Emily Hall Tremaine grew up in the 1920s and embodied the Santa Barbara lifestyle of glamour, wealth and privilege.
With her third husband Burton G. Tremaine, whom she married in 1945, she amassed a contemporary art collection that at the time that was said to rivaled that of the Museum of Modern Art. In 1988, Christie's sold 32 of their major contemporary works for $60.0 million dollars, an auction record at the time for a single owner collection.
Two outstanding paintings of Hawaiian views from her collection were the star lots of the sale. A roadside Hawaiian view of Hamerly, by D. Howard Hitchcock (American, 1861-1943), oil on canvas, dated 1899 sold for $48,000 while a Lloyd Sexton, Jr. (American, 1912-1990), painting of a view of Kahului, Maui, Hawaii, oil on canvas, sold for $26,400.
The collection featured signed lithographs from American painters Robert Rauschenberg, Ellsworth Kelly, and Lichtenstein which all sold in the $6,000-$14,000 range. Several early cardboard collage works by Robert Rauschenberg from his "Cardbird Series" brought $6,000, while lithographs by Frank Stella sold for $4,800-$5,500. The solid provenance of the Tremaine family helped boost prices far beyond their high estimates.
An original Bridget Riley (British, 1931-), abstract silkscreen print, signed and dated 1964 in pencil, edition, 37/50, lit up the Internet. With several phone lines vying for the piece as well, it was finally hammered down at $32,600. A Hershey Collage, by American artist Al Hansen (American, 1927-1995) fabricated of Hershey chocolate bar wrappers on Masonite sold for $15,600.
Paintings from other various estates in the sale also brought strong prices. "On Gilbert Head", a Maine landscape by American artist Stephen Etnier (American, (1903-1984), signed and dated 1935 with an exhibit label from the Carnegie Institute, Pittsburgh, PA sold for $15,600, while five original Johann Berthelsen (1833-1972) New York City snow scenes sold within estimate at $5,400- $6,000.
Family silver and furniture from the Tremaine estate sold far above estimate as well. In particular, an unusual French garniture set sold for $9,000, while an Irish silver tureen bearing the family monogram sold for $4,800.
There was huge interest in a collection of Egyptian and Roman antiquities from Commander Henry Gorringe that had been on loan to the Worcester Art Museum. Gorringe was responsible for moving the obelisk of Thutmosis III, also known as Cleopatra's Needle, from Alexandria, Egypt to Central Park in New York City in 1879. Several lots of Roman coins and Egyptian artifacts from the collection brought spirited Internet and phone bidding and were finally hammered down in the $5,700-$6,000 range. The real contest though, was for a set of 3 Tiffany printing plates that sold for $6,600.00 to a happy phone bidder.
Fine art again led the top lots of Day One. An oil on canvas by Felix Ziem of ships in a harbor sold for $15,600 while a painting titled "Desert Travelers" by Fredrick Arthur Bridgman sold for $12,000.
Other items of interest that did particularly well were a set of discharge papers bearing Abraham Lincoln's signature that sold for $5,400, and an Alvan Clark & Sons brass telescope owned by prominent zoologist and Harvard oceanographer Henry Bigelow, first director of the Woods Hole Oceanographic Institute that sold for $6600.
Kaminski Auctions Annual New Year's Estate Auction will be held Saturday and Sunday, December 26th and 27th, 2015 at the Kaminski Auction gallery, 117 Elliott Street, Rt. 62, Beverly, Massachusetts For more information, preview times and to sign up to bid with KaminskiLIVE go to http://www.kaminskiauctions.com.