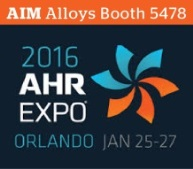 Cranston, RI USA (PRWEB) December 21, 2015
AIM is pleased to announce their participation at the upcoming AHR Expo that will take place from January 25th – 27th, 2016 at the Orange County Convention Center in Orlando, Florida. AIM will feature their new NITRO Flux soldering paste along with their full line of solder assembly materials for the plumbing industry in booth 5478. The 2016 AHR Expo marks the second consecutive year that AIM will participate at the show.
NITRO Flux, a new soldering paste for the plumbing industry, was formulated specifically for effectiveness on copper, tin and lead, and lead-free brass. NITRO promotes excellent solderability and post-soldering residues can be easily wiped clean. The creamy texture and viscosity allows the product to hold its form and stay in place while soldering.
AIM will begin their 2016 trade show calendar exhibiting at the AHR Expo in Orlando, the biggest HVACR (Heating, Ventilation, Air-Conditioning, and Refrigeration) trade show of its kind. The show has over 2,000 registered exhibitors and 60,000 professionals.
"We are looking forward to seeing our current and potential customers," said Dan Leblond, AIM's National Plumbing Sales Manager. "We had exceptional success participating at the previous AHR Expo in Chicago and we plan to continue that level of success at this valuable show."
To learn more about AIM's plumbing and industrial products & services, please visit them in booth number 5478 at the AHR Expo or at http://www.aimalloys.com.
About AIM Alloys Division
AIM Alloys specializes in standard and custom industrial-grade metals and alloys for casting, plating, and soldering for the industrial and plumbing industries. AIM's manufacturing facilities are ISO 9001 certified and products are manufactured using high-purity metals. AIM offers one of the most robust support systems in the industry, providing metallurgical assistance, extensive inventory, and flexibility in formulas, shapes, quantities. AIM's direct sales force and authorized distributors and representatives guarantee reliable and immediate service. For more information on AIM Alloys, visit http://www.aimalloys.com.