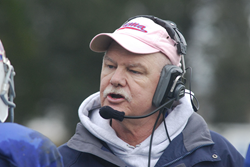 Fork Union, Virginia (PRWEB) December 14, 2015
After spending most of the past forty years leading on the sidelines of Fork Union Military Academy's playing fields as coach and Athletic Director, Coach Micky Sullivan has let it be known that he is retiring after this school year. Fork Union Military Academy is expected to begin a search for his successor in the position of Athletic Director at the historic school, an institution as well-known for its wide-ranging success across many interscholastic sports as it is for the familiar names of its alumni that have gone on to star in the National Football League, the National Basketball Association, and other professional sports leagues.
Coach Sullivan began his athletic career at Fork Union as a cadet, attending high school as a member of the Corps of Cadets and remaining for a postgraduate year to improve his chances for a college athletic scholarship offer. And those offers did come, with Sullivan ultimately deciding to play football for East Tennessee State University, turning down the opportunity to play for Marshall University in his hometown of Huntington, West Virginia.
Sullivan played his college football for Coach John Robert Bell from 1967 until his graduation in 1971, earning his Bachelor of Science degree in History. Sullivan was a junior in the 1969 season that many consider to be the greatest in the history of East Tennessee State University. Sullivan's team posted an undefeated 10-0-1 record and earned a berth in the Grantland Rice Bowl where they would face Louisiana Tech and their Hall of Fame quarterback by the name of Terry Bradshaw. East Tennessee would cap that incredible season by winning that bowl matchup 34-14.
In 1975, Sullivan would return to Fork Union Military Academy as a teacher and coach. Between 1975 and 1980, he would serve as an assistant postgraduate football coach, and assistant prep basketball coach, assistant prep baseball coach, head prep wrestling coach, head junior prep basketball coach, head prep football coach, and assistant athletic director.
After five years at Fork Union, Sullivan felt the call to return to Huntington, WV and work in the Sullivan Distributing Company, but, as his wife Kathy confides, he found being away from coaching made him miserable.
By 1983, Sullivan was back at Fork Union with that coach's whistle around his neck, doing what he loved every day. Nine times he was named the VISFA Coach of the Year, seven times his teams won the VISAA State Championship. On the football field, he amassed a career record of 200-118-3, prior to stepping down as head football coach at the end of the 2012 season.
As Athletic Director, a position he has held since 1995, he helped grow an undergraduate program into a strong set of interscholastic teams producing state championships in track and swimming along with individual champions in wrestling and state playoff participation by both the basketball and baseball teams. In addition to his accomplishments at Fork Union Military Academy, Sullivan helped found the Virginia Independent School Football Association which has become part of the Virginia Independent Schools Athletic Association.
Coach Sullivan's accomplishments have been many, but when asked what he is most proud of, he said, "The most important thing that I did was-with the help of my wonderful wife Kathy-raise a great family of daughters who have turned out to be great women, wives, and mothers."