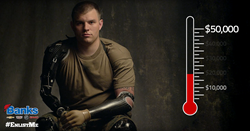 "This is an important cause, and the entire staff at Banks Chevrolet is committed to making this fundraiser a success. We invite anyone in the community to stop by Banks and make a donation." -Brad Solomon, Banks Chevrolet
Concord, NH (PRWEB) December 15, 2015
Banks Chevrolet has set a goal to raise $50,000 to support the Building for America's Bravest program. They have committed to a 100% match for any donations made to support this cause.
Building for America's Bravest is a program that builds smart houses for severely disabled veterans. GMC announced a partnership with the Building for America's Bravest program and launched a national campaign called #EnlistMe to fundraise for this cause. Banks Chevrolet has invested in the campaign as a dealership and has committed to a 100% match of funds raised in addition to what GMC contributes.
Through this vital program, funds are raised to build custom-designed, specially adapted "smart homes" for our nation's most catastrophically injured military service members. Energy efficient, automated, and easily accessible, these innovative homes use "adaptive technology" to help these courageous men and women live better, more independent lives.
"This is an important cause, and the entire staff at Banks Chevrolet is committed to making this fundraiser a success. We invite anyone in the community to stop by Banks and make a donation to help our disabled service men and woman," said Brad Solomon, Customer Care Manager at Banks. "Every dollar counts, and we appreciate all of the support we receive from our Banks family of customers and our community."
To make a donation of any size, please stop by the Banks Chevrolet dealership at 137 Manchester Street in Concord, NH. Donations will be accepted through December 31, 2015.
About Banks Chevrolet
Banks Chevrolet-Cadillac-Buick-GMC is New England's Highest Volume GM Dealer with over 1500 vehicles to choose from. Located at 137 Manchester St., Concord, NH. For more information visit http://www.banksautos.com.