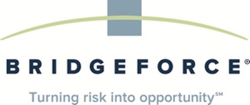 Chadds Ford, PA (PRWEB) December 15, 2015
Bridgeforce, a multi-national consulting firm focusing on consumer and small business lending and payments, is pleased to announce the promotion of Adam Thornber to Managing Director of Bridgeforce Limited, our UK Practice. Adam will have oversight of the entire UK operations and will continue to provide strategic direction and leadership ensuring sustainable success for our clients.
"Adam has demonstrated a consistent ability to leverage the capabilities of Bridgeforce to create great value for our clients," stated Matt Scarborough, Chief Executive Officer. "His well-rounded experience, versatility and integrity have been invaluable across our client base and we are delighted to recognise Adam's accomplishments and leadership."
Since joining Bridgeforce in 2012, Adam has led major engagements across the UK and Ireland including operating model design and implementation, portfolio management strategies and driving large-scale sustainable change to deliver real results. Adam's oversight has helped to continue the advancement and growth of the UK Practice.
"I am thrilled at the opportunity to continue to solve client issues and to build on the solid success and growth of the company in the UK," said Adam. "The industry is facing some exciting times and I look forward to continuing our work to help our clients achieve their goals and objectives."
Adam's first 10 years in financial services were at Royal Bank of Scotland. He also served as Operational Strategy Manager for Northern Rock and then more latterly the combined UK Asset Resolution Group following the merger with Bradford and Bingley in November 2010.
For additional information, please see Adam Thornber's biography brief.
About Bridgeforce
Bridgeforce is a specialised multi-national consulting firm serving a variety of clients involved in almost all aspects of the consumer and small business lending and payments space. Over 75 percent of Bridgeforce consultants come directly from client-side leadership positions across multiple parts of the credit lifecycle. Combined with subject matter expertise in operations, technology, strategy and regulatory issues, Bridgeforce has the knowledge and experience to make the hard choices in developing and implementing best-fit solutions that are both achievable and lower the risks of execution to ensure sustainability. Bridgeforce success can be attributed to a culture fostering innovation and evolving experienced-based best practices recognized within the industry. For more information, visit http://www.bridgeforce.co.uk.