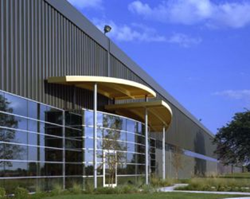 COMSTOCK TOWNSHIP, MICHIGAN (PRWEB) December 16, 2015
Midlink Business Park announced today that two new tenants have signed leases to occupy more than 100,000 square feet in Midlink West. To accommodate the new tenants, the state-of-the-art business park transformed a large space in the 811,000-square-foot facility into three smaller units—the first for Tekna at 51,430-square-foot space, the second for Hycorr, LLC, at 51,300 square feet, and the remaining third for a prospective user at 39,000 square feet.
"Flexibility is the key ingredient to our success," said David Smith, President of Midlink Business Park. "No matter what's involved, we're committed to creating the right environment for companies who locate here." Midlink is customizing both spaces—and delivering them quickly—to meet the new tenants' tight timelines.
Tekna, a Kalamazoo- based product development consultancy and product manufacturing organization, will be using their new space as a second location for design, engineering and manufacturing. "We are excited to continue our commitment to the Southwest Michigan region through the expansion of our manufacturing facilities at Midlink. Our products require first class facilities and space flexibility, both of which are cornerstones at the Midlink Business Park. This 51,000-SF expansion allows Tekna to continue to foster an environment where innovation, creativity and an honest approach will fulfill the needs of our diverse customer base and attract top talent. This facility will augment our existing 34,000 SF . product innovation studio located in the WMU Business Technology Research Park," said Kris Eager, Tekna's CEO.
Hycorr, LLC, a subsidiary of Kolbus America, Inc. and industry-leading builder of corrugated box-making machinery, will be using their new space to manufacture rotary die-cutters, which die cut and digitally print in one simple pass. "Midlink provides us with the capacity not only to manufacture, but also to test and prove out the machines by printing with ink," said David Williamson, Hycorr's Director of Operations.
"We thrilled to have both tenants at Midlink," continued Smith, who extends special recognition to Matt Callander and David Keyte of Callander Commercial for representing the landlord in lease negotiations with Hycorr.
MORE ABOUT MIDLINK BUSINESS PARK
Located midway between Chicago and Detroit, at I-94 and Sprinkle Road in Kalamazoo, Michigan, Midlink Business Park is a world-class, 340-acre development that offers a 110-acre Renaissance Zone, two state-of-the-art multi-tenant industrial buildings, totaling more than 1.6 million square feet of existing space, and 101 acres of mixed-use surplus land, including 61 acres of industrial land for development and a 40-acre retail zone. The park also offers dual rail service, truck-friendly access to and throughout the park and high-capacity infrastructure for advanced manufacturing and distribution. The original site, A General Motors stamping plan, was renovated and repurposed after an affiliate of Hackman Capital Partners, LLC, purchased the property in 1999. For more information, visit http://www.midlink.com.
MORE ABOUT HACKMAN CAPITAL PARTNERS, LLC
Founded in 1986 and headquartered in Los Angeles, Hackman Capital Partners is a privately held, asset-based investment firm that focuses on the acquisition of industrial real estate and the purchase and sale of industrial equipment. The firm currently owns, through its affiliated entities, more than 270 facilities throughout the United States, totaling approximately 25 million square feet and over 10,000 acres of developable land. HCP also has conducted hundreds of equipment acquisitions, dispositions and liquidations on four continents. With more than 29 years of experience in acquisition, redevelopment and asset management, Hackman Capital Partners is known across marketplaces for its ability to successfully navigate complex transactions and financial restructurings involving real estate and equipment. For more information, visit hackmancapital.com.