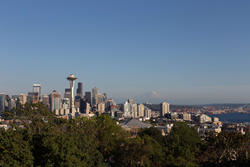 "Seattle Museum Month was an overwhelming success last year and The Westin Seattle is very much looking forward to the return of the program," said Diane Holliday Germain, General Manager at The Westin Seattle. "Our guests were delighted by the generosity
Seattle, WA (PRWEB) December 16, 2015
Visit Seattle announced today the return of the popular Seattle Museum Month, February 1-29, 2016. The travel promotion offers Seattle hotel guests 50 percent off admission at more than 40 participating museums throughout Seattle and the region.
The offers are valid for guests staying at one of 58 downtown Seattle hotels. Guests must present an official Seattle Museum Month guest pass at participating museums to redeem the discounts; these discounts will be valid for all guests staying in the hotel room (not to exceed four people) during hotel stay dates.
Major museums in Seattle and the surrounding region are participating in the program again this year – including the Seattle Art Museum, Museum of History & Industry, Museum of Flight, EMP Museum, Seattle Aquarium, Woodland Park Zoo, Wing Luke Museum of the Asian Pacific American Experience and the Burke Museum of Natural History and Culture. Two internationally renowned glass art museums are included - Chihuly Garden and Glass in Seattle and the Museum of Glass in Tacoma. The Bellevue Arts Museum in Bellevue and the USS Turner Joy in Bremerton are also participating again this year. New participating museums include the Living Computer Museum, Seattle Pinball Museum and Pacific Bonsai Museum.
Visitors can check the Seattle Museum Month web site for a full list of participating museums at http://www.seattlemuseummonth.com.
A number of participating museums – including some with regularly free admission – will also offer films, lectures, tours and other special programming during Seattle Museum Month.
Patrons must stay in one of the participating hotels in order to access Seattle Museum Month offers. The discount offer will be honored for qualifying visitors for all days that participating museums are open in February, subject only to capacity. Some separate, specially ticketed exhibitions, programs and events at various participating museums are not included in Seattle Museum Month.
"We saw firsthand the impact of Visit Seattle's efforts to engage visitors with our region's cultural institutions during the inaugural Museum Month," said Michelle Bufano, Executive director, Chihuly Garden and Glass. "It was incredible to see so many guests who may not have visited otherwise leave inspired and excited to continue exploring the arts in the Pacific Northwest. We can't wait to see what this year holds."
Seattle Museum Month is produced by Visit Seattle and funded by the Seattle Tourism Improvement Area (STIA), a dedicated marketing fund assessed from guests at the 58 downtown Seattle hotels. Seattle Museum Month is present in many different types of media including digital, social, Out of Home (OOH) and movie trailers. The program is targeting key markets of eastern Washington, Portland, Vancouver, B.C., Denver, San Francisco, San Jose and Oakland.
"Seattle Museum Month was an overwhelming success last year and The Westin Seattle is very much looking forward to the return of the program," said Diane Holliday Germain, General Manager at The Westin Seattle. "Our guests were delighted by the generosity of the museum community and enjoyed discovering the many wonderful museums Seattle had to offer in the area."
The program goal is to increase hotel room nights as well as museum attendance during the month of February. Additionally, the program's marketing exposure is expected to have a long-term positive business impact for participating organizations and the region.
Visit Seattle thanks 4Culture, the Seattle Office of Arts & Culture and STQRY for supporting Seattle Museum Month.
"Wintertime and museums make for good partners, because no matter the weather, there will always be something interesting and engaging to enjoy inside the walls of these 40-plus organizations," said Tracey Wickersham, Director of Cultural Tourism at Visit Seattle. "We have an extraordinary collection of unique museums in Seattle and the greater Puget Sound region, offering fun and unique ways to explore art, history and culture. Museum Month makes it possible to experience them while enjoying 50 percent off admission, or in some cases, free admission. February is now a perfect time to visit Seattle."
Visit Seattle, a private, nonprofit marketing organization, has served as Seattle/King County's official destination marketing organization (DMO) for more than 50 years. The goal of these marketing efforts is to enhance the employment opportunities and economic prosperity of the region. For more information, visit http://www.visitseattle.org.
For images of Seattle museums, visit Media.visitseattle.org/res/sites/museummonth.
The full list of participating museums in Seattle Museum Month is below.
1. Bainbridge Island Museum of Art*
2. Bellevue Arts Museum
3. Bill & Melinda Gates Foundation Visitor Center*
4. Burke Museum
5. Chihuly Garden and Glass
6. Daybreak Star Indian Cultural Center*
7. EMP Museum
8. Frye Art Museum*
9. Henry Art Gallery
10. Job Carr Cabin Museum*
11. Kids Discovery Museum
12. Kitsap History Museum
13. Klondike Gold Rush National Historic Park*
14. LeMay – America's Car Museum
15. LeMay Family Collection
16. Living Computer Museum
17. Milepost 31*
18. Museum of Flight
19. Museum of Glass
20. Museum of History & Industry (MOHAI)
21. Naval Undersea Museum*
22. Nordic Heritage Museum
23. Northwest African American Museum
24. Northwest Railway Museum*
25. NW Seaport*
26. Olympic Sculpture Park*
27. Pacific Bonsai Museum*
28. Pacific Science Center
29. Puget Sound Navy Museum*
30. Seattle Aquarium
31. Seattle Art Museum
32. Seattle Asian Art Museum
33. Seattle Pinball Museum
34. Shoreline Historical Museum*
35. Steamer Virginia V*
36. The Center for Wooden Boats*
37. USS Turner Joy
38. Valentinetti Puppet Museum*
39. Washington State History Museum
40. Wing Luke Museum of the Asian Pacific American Experience
41. Woodland Park Zoo