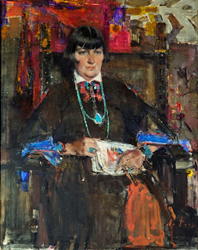 This exhibition will look at Luhan's impact on issues such as Native American sovereignty and civil rights, the promotion of women artists, as well as sexuality and gender equality. - Dr. Lois Rudnick, co-curator
Taos, New Mexico (PRWEB) December 15, 2015
The Harwood Museum of Art is proud to announce the premiere of a new traveling exhibition, Mabel Dodge Luhan & Company: American Moderns and the West. Opening May 22, 2016 in Taos, the exhibition is the largest in the museum's history and will be the first of its kind to examine the life and times of Luhan (1879-1962), one of the 20th century's most significant cultural figures at the center of the modernist effort in America. In the words of American painter Marsden Hartley, Luhan was "a "real creator of creators," responsible for bringing modern art to Taos and putting the small southwestern outpost on the national and international map. Creating a "Paris West," Mabel influenced legions of European and American "movers and shakers" to find new cultural, social and aesthetic perspectives on modern life in Northern New Mexico's landscapes.
This exhibition chronicles Luhan's travels, and the impact that she had on activism, art, philosophy, and literature, and features over 150 works of art, historical photos, and publications. The exhibition contains over 30 works from the Harwood collection as well as works from over 30 lenders, including MoMA, the Center for Contemporary Photography, the Philadelphia Museum of Art, the Art Institute of Chicago, the Denver art Museum, and many private collectors. A symposium on the interactions among the Anglo, Pueblo, and Hispano cultures of Northern New Mexico will be held on June 18th, in alignment with The Harwood Museum's vision of "bringing Taos arts to the world and world arts to Taos."
Luhan's ambitions for Modernism were national and international in scope, but "There is a need for greater recognition of the importance of 'Southwestern Modernism,'" said co-curator Dr. Lois Rudnick, preeminent Mabel Dodge Luhan scholar and Professor Emerita of American Studies at the University of Massachusetts Boston. "This exhibition will thoroughly examine the roles played by Euro-American writers, patrons, and social activists, as well as by Pueblo and Hispano artists of Northern New Mexico in creating a unique Southwestern Modernism. Additionally, it will look at Luhan's impact on issues such as Native American sovereignty and civil rights, the promotion of women artists, as well as sexuality and gender equality."
Born and raised in Buffalo, NY, Luhan transitioned from wealthy American heiress to visionary expatriate in Florence, Italy; to prominent salon hostess in Greenwich Village; and, finally, to founder of a socially and culturally avant-garde colony in Taos. Upon her arrival in Taos in 1918, Luhan brought with her--and expanded--her multiple interests in art, politics, psychology, music, poetry, theater, band spirituality. She strategically invited important players in each of these arenas to Taos, not only to experience and be inspired in their work by the magnificent light and landscape, but also to help her position the Pueblo Indians as a foundation for a more genuine and holistic American culture. She and her fourth husband, Antonio Lujan, a member of Taos Pueblo, hosted a number of influential artists, writers, and social activists, including Marsden Hartley, D.H. Lawrence, Willa Cather, John Collier, Georgia O'Keeffe, Ansel Adams, Paul Strand, Martha Graham, at their 12-acre compound contiguous to Taos Pueblo.
Dr. Lois Rudnick and co-curator MaLin Wilson-Powell have worked with the staff and governing board of The Harwood Museum for five years to create and present the most comprehensive exhibit ever organized on one of the early 20th century's most significant cultural figures.
Mabel Dodge Luhan & Company: American Moderns and the West will be exhibited at The Harwood Museum in Taos from May 22 – September 11, 2016. It will then travel to The Albuquerque Museum of Art and History from October 29, 2016 – January 22, 2017, and then to the Burchfield Penney Art Center in Buffalo, NY from March 10 – May 28, 2017.
For more information, please visit http://www.mabeldodgeluhan.org.
Image credits:
(TOP) Mabel Dodge Luhan, 1927
Nicolai Fechin
Oil on canvas
50 x 40 in.
Courtesy of American Museum for Western Art -- The Anschutz 10Collection, Denver, Colorado
Photograph by William J. O'Connor.
(BOTTOM) Grey Cross with Blue, 1929
Georgia O'Keeffe
Oil on canvas
Albuquerque Museum of Art, Albuquerque, NM
###
For media inquiries including image requests, please contact:
Marissa Yniguez
520 873 7977
Marissa(@)jlhmedia(.)com
ABOUT THE HARWOOD MUSEUM OF ART: The Harwood Museum of Art was formed in 1923 by Lucy Harwood and members of the Taos Society of Artists and is the second oldest museum in New Mexico. Affiliated with the University of New Mexico since 1935, the Harwood houses the internationally acclaimed Agnes Martin Gallery, galleries exhibiting highlights from the Museum's collection of work by the Taos Society of Artists, Taos Moderns, Hispanic Traditions, contemporary artists working in Taos, and changing exhibitions that fulfill the Harwood's vision to "Bring Taos Arts to the World and World Arts to Taos." For additional information, please visit HarwoodMuseum.org.