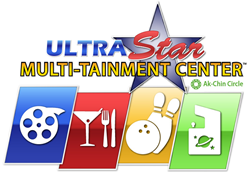 Maricopa, AZ (PRWEB) December 15, 2015
The UltraStar Multi-tainment Center at Ak-Chin Circle, located at 16000 Maricopa Rd., Maricopa, AZ 85139, is excited to bring a special "Star Wars" themed weekend on December 18th and 19th.
For one weekend only, guests can enjoy special music and entertainment inspired by the iconic movies and two specialty cocktails to celebrate the movie's launch.
On Friday, December 18th and Saturday, December 19th guests at UltraStar Multi-tainment Center can take pictures and meet some of their favorite "Star Wars" cosplay characters from the 501st Legion. The 501st Legion is a worldwide Star Wars costuming organization comprised of and operated by Star Wars fans. They will appear in costume and available for photos on Friday, December 19th 6pm-10pm and again Saturday, December 19th 10am-2PM. In addition, the Maricopa Music Circle Orchestra will be entertaining guests throughout the evening on Friday, December 18 from 5pm-8pm and again on Saturday, Dece 19th from 12pm-8pm with theme music from the iconic movies. The Music Circle Orchestra is a conductor-less chamber orchestra that started in 2010. The group has brought together local Maricopa musicians who are primarily music professionals to perform high-level music in and around the Maricopa area. The concert is free for all guests. Tickets for Star Wars are on sale now at http://www.ultrastarakchin.com or at the box office.
In addition to the entertainment, two specialty cocktails will be introduced. The Darkside, contains 3 Olives Cherry Vodka, Raspberry Liquor, Sprite and Grenadine. The second cocktail, The Force, is made with Malibu Rum, Triple Sec, Blue Curacao and Lemonade. Both cocktails are being offered at the incredible price of $7.
"Star Wars: The Force Awakens" is one of the most highly-anticipated movies of the decade, and UltraStar Multi-tainment Center is setting the stage to make sure fans have an incredible experience, while enjoying what some are calling the best installment in the series.
About UltraStar Multi-tainment Center at Ak-Chin Circle:
The UltraStar Multi-tainment Center at Ak-Chin Circle, an enterprise of the Ak-Chin Indian Community, is operated by California-based UltraStar Cinemas. UltraStar Cinemas is recognized for pioneering the digital age of cinema. They are the first theater group in the world to be fully equipped with Pure Digital Cinema® powered by DLP Cinema® technology in all of their locations. The UltraStar Multi-tainment Center at Ak-Chin Circle features "One stop, non-stop entertainment." Guests experience adventure, competition, entertainment and relaxation all conveniently located under one roof. The Multi-tainment Center features state-of-the-art digital theaters, bowling, dining, sports lounge, live entertainment, laser tag and arcade gaming as well as corporate and private event facilities. It is located at 16000 Maricopa Rd., Maricopa, AZ. http://www.ultrastarakchin.com
About Ak-Chin Indian Community:
The Ak-Chin Indian Community is nestled into the Santa Cruz Valley of Southern Arizona. The Community lies 35 miles south of Phoenix in the northwestern part of Pinal County. Ak-Chin is an O'odham word translated to mean "mouth of the wash" or "place where the wash loses itself in the sand or ground." Ak-Chin has an enrollment of more than 1,022 tribal members and a land base of just over 22,000 acres. The Ak-Chin Indian Community has a variety of business enterprises including Harrah's Ak-Chin Casino, Ak-Chin Southern Dunes Golf Club, UltraStar Multi-tainment Center at Ak-Chin Circle and Santa Cruz Commerce Center. For more information, visit http://www.ak-chin.nsn.us.
Media contact:
Christine Holtz
Phoenix Marketing Associates
602-282-0202