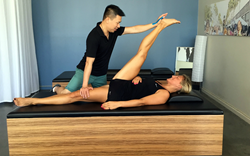 StretchLab is not a passing fitness fad, says co-founder Tim Trost
Venice, CA (PRWEB) December 15, 2015
StretchLab has released its updated website, created by WebVixxen Design, to further establish the brand as an emerging leader in the healthy lifestyle category and to accelerate the growth of the brand in the upcoming year.
Since June 2015, StretchLab has established itself in Venice, CA, the hub of physical fitness and innovation, as the perfect activity to keep bodies strong and safe. Used in conjunction with other workout techniques or with sedentary lifestyles, participants can improve balance and movement, decrease pain and improve performance. The new website design is expected to fuel StretchLab's rapid expansion with a focus on continued growth in California.
"StretchLab is not a passing fitness fad," says co-founder Tim Trost. "Getting in a good daily workout is important, but stretching before and after is equally, if not more important to help prevent both small and serious future injuries. Even for those who do not work out regularly, there are great benefits from StretchLab's assisted stretching."
StretchLab is committed to an ease of access, intending to make the experience of stretching as easy as it is important. They are also committed to innovation, measurable results and a commitment to excellence as they continue to expand.
About the StretchLab Experience
Created from the combined experience and expertise of Saul C. Janson, Tim Trost and Steve Sudell, StretchLab offers one-on-one personal stretching with a highly-trained Flexologists, using a technique that allows for more effective stretches and faster results with a variety of session lengths. The Venice location's modern, open studio offers a fun and relaxing atmosphere that is easily accessible to walk-ins as well as those with pre-scheduled appointments.
Gift Certificates are now available on the website: http://stretchlabvenice.com/gift_certificates/