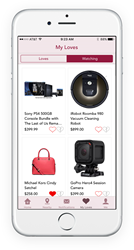 Make your phone your best shopping companion this holiday season
CONCORD, Mass (PRWEB) December 15, 2015
Whether shopping from the couch or muscling your way through the throngs of other shoppers in stores and malls, smartphones can be the best companion for finding that perfect gift or best deal. ShopAdvisor, the consumer shopping app and mobile proximity platform, has this advice on how to use smartphones to make holiday shopping productive and cost effective:
Before You Head Out:

Update your apps: Before shopping, make sure you have the most up-to-date versions of your shopping apps so that you can utilize all of their helpful features. This includes making sure you've enabled location services to access more personalized and geographically relevant shopping deals and coupons.
Charge your phone: Seems simple – but it's always worth mentioning. Running multiple apps and using location services can quickly drain a battery.
Look for the Best Deals:

Utilize coupons and promo codes: A quick Google search will help yield a plethora of coupon code options. You can present these coupons in-store to a sales associate or plug-in the promo code while you're shopping online.
Compare prices: Ensure you're getting the best price on your gifts by comparing products on your phone. Specific apps, such as ShopAdvisor, will allow you to compare a product's price from both online retailers and brick-and-mortar locations. You can do this before you leave the house to shop, or even share with a sales associate once you get to the store to see if they'll match a lower price.
While You're Shopping

Connect to WiFi: Take advantage of the free Wi-Fi offered at malls or in stores by connecting as soon as you get there. You'll save time (and data) by already being connected and avoiding a cumbersome app experience.
Turn on Bluetooth: By turning on Bluetooth and opting-in to location services and push notifications, your shopping apps will be able to communicate with in-store beacons – handy devices that detect that you've entered the store, signaling to the shopping app to send you a relevant offer or coupon.
Keep It Social:

Check social media: Many times, brands or retailers will promote deals and coupons through their various social media accounts. Follow your favorites on Twitter, Facebook, Pinterest and Instagram and check their latest posts before you go shopping – whether you choose to shop online or in-store.
"Phone" a friend: Even if you're shopping on your own, enlist your friends' and family's opinions with a quick Snapchat or over FaceTime. Get a second opinion or advice on sizes and preferences with a quick snap, in-store FaceTime session, or even just by texting a photo of the gift in question.
"Your phone can be your best shopping companion this holiday season," says Scott Cooper, Founder and President of ShopAdvisor. "It's always on you – so why not use it to your advantage while shopping. Your phone can help find what you're looking for quickly, but also introduce you to new items and gift ideas that might surprise you. It can expedite the whole process and save money as well."
ABOUT SHOPADVISOR, INC.
ShopAdvisor, Inc. bridges the gap between web commerce, proximity, and retail. ShopAdvisor's mobile proximity platform, data sciences and easy to use app deliver a personal shopping concierge for consumers that advises on when, where, and what to shop. Shoppers can save items they love and be alerted when the time to buy is right, saving time and money. ShopAdvisor works with more than 30 media publishers, including Cosmopolitan, People StyleWatch, Marie Claire, Men's Health, Cooking Light, Real Simple, and many more to allow shoppers to shop directly from the publishers' omni-channel content. Consumers can download the free ShopAdvisor mobile app for their iOS or Android device, or go to ShopAdvisor.com.
Press Contacts:
ShopAdvisor, Bill McLaughlin, 617-515-8004, bill_mclaughlin1956(at)comcast.net
ShopAdvisor, Angela Milinazzo, 781-640-6863, angela(at)shopadvisor.com