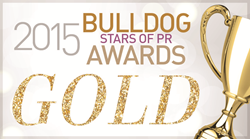 Madison, Wis. (PRWEB) December 15, 2015
C. Blohm & Associates, Inc. (CB&A), the premier integrated public relations and digital agency for the education and special needs industries, has earned a Bulldog Reporter Stars of PR Gold Award as Small Agency of the Year. Bulldog Reporter is a trusted PR resource for industry news, opinions and analysis. The organization's prestigious awards program gives 38 honors to agencies and individuals who perform outstanding work in the public relations and communication industry.
"We've worked hard to build a world-class team, and the recognition from Bulldog Reporter signals those efforts are being recognized by our peers in the PR industry," said CB&A Founder and President Charlene Blohm. "Our focus on the education and special needs industries allows us to work with a dynamic array of products and industry leaders who share our passion for improving the lives of children everywhere."
Bulldog Reporter evaluated PR agencies on the following criteria: firm positioning, account retention, work environment, growth and new business development, improvement to society, and results achieved for clients. Award-winning journalists from media outlets such as The Washington Post, USA Today and The Oregonian took part in the rigorous judging process.
CB&A's successful visibility campaigns, substantial business development, investment in employee professional development and commitment to philanthropy were highlighted in the award summary. The Bulldog Reporter award illuminates CB&A's capabilities in the areas of media relations, social media and content marketing. Additionally, the recognition clearly articulates how CB&A drives results for clients.
This honor contributes to CB&A's growing list of 2015 awards, including six PRSA-Madison Alchemy Awards, a Dane County Small Business Award and Blohm's recognition as EdTech Digest's Leading Education Trendsetter. Since its founding in 1991, CB&A has grown from serving three clients to serving nearly 30 clients from San Francisco to Stockholm.
About C. Blohm & Associates, Inc.
C. Blohm & Associates, Inc., is the premier integrated public relations and digital firm specializing in visibility campaigns for the education and special needs industries. This award-winning agency creates visibility campaigns that drive results for clients. Passion, imagination and commitment are hallmarks of this dynamic team that focuses on the importance of providing everyone with the chance to learn. CB&A crafts customized integrated marketing communications that resonate with influencers and drive results for clients, because after all, Visibility Matters. For more information, visit http://www.cblohm.com.
# # #