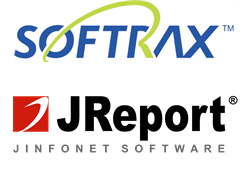 We help SOFTRAX users achieve a higher level of data insight by being at the visual focal point of their revenue management and analysis software solutions.
Rockville, MD (PRWEB) December 15, 2015
JReport, the leading embedded visualization and reporting software solution, was recently chosen by SOFTRAX to provide advanced BI capabilities for their advanced revenue recognition software. For nearly two decades, SOFTRAX has provided enterprises with solutions to optimize management of revenue, including compliance with FASB, IASB, SEC, auditor and other requirements. By enhancing existing products with JReport, SOFTRAX has brought revenue visibility to a new level enabling fast, accurate revenue, audit and compliance reporting. SOFTRAX has selected JReport not only for its powerful reporting, dashboard, and mobile BI capabilities, but also for its capability to seamlessly embed within the SOFTRAX applications.
SOFTRAX customers include financial organizations within the Fortune 500 down to medium-sized enterprises who depend on SOFTRAX to help manage their organizations' revenue data and performance. With the consolidation of FASB and IASB revenue recognition guidance into the ASC 606 standard, reporting requirements increase substantially. JReport provides SOFTRAX with powerful new ways to visualize that data through reporting and analysis of revenue data.
JReport gives SOFTRAX instant data interactivity and analysis capabilities, helping business users draw conclusions from complex, high-volume revenue data. JReport ad hoc reporting empowers business users to create their own data visualizations, without technical knowledge of how the underlying data is stored. The sophisticated capabilities within JReport ensure business users maximize their decision-making efficiency.
"With revenue as one of the most critical measures of an organization's success, proper understanding, presentation and analysis of revenue-related data is a vital capability of our solution set," says Tom Zauli, VP of Sales and Marketing at SOFTRAX. "End users in our customer base gain immediate benefits from highly configurable and interactive reports and dashboards for exploring their revenue data. These tools will ultimately allow them to realize greater results through better business decisions."
"We help SOFTRAX users achieve a higher level of data insight by being at the visual focal point of their revenue management and analysis software solutions," says Dean Yao, Director of Marketing at Jinfonet Software. "JReport's partnership with SOFTRAX moves them to a leadership position among other solutions available on the market."
JReport 13.1 is now generally available. To request a customized demo, please contact sales(at)jinfonet(dot)com or call (240) 477-1000. You can also view our JReport Product Demo to get a more detailed look at the JReport product suite.
SOFTRAX Revenue Manager 4.1 is now generally available with support for ASC 606. Please contact info(at)softrax(dot)com or call (972) 715-4028 for further information.
About SOFTRAX
SOFTRAX is a leading provider of enterprise revenue management and billing software solutions that fundamentally change the way companies manage, analyze, report, and forecast their revenue. SOFTRAX solutions automate the entire revenue cycle, from revenue recognition, reporting and forecasting, through complex billing and contract renewals. Hundreds of corporations benefit from using SOFTRAX to optimize their revenue, reduce operating expenses, comply with revenue recognition regulations, and gain unprecedented visibility into their business performance.
More information on SOFTRAX is available at http://www.softrax.com.
About Jinfonet Software
JReport, developed by Jinfonet Software, is an embeddable Java-based BI solution for the enterprise. JReport empowers users to create reports, dashboards and data analysis on cloud, big data and transactional databases. Users now have access to their own BI and data visualization capabilities from within their applications. JReport has been deployed by hundreds of thousands of users at more than 10,000 installations worldwide.
More information on JReport and Jinfonet Software is available at http://www.jinfonet.com.