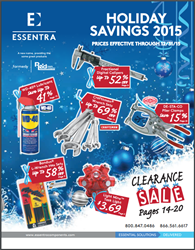 Must-have tools and equipment, components and industrial supplies feature discounts of up to 69% this month only!
Muskegon, MI (PRWEB) December 16, 2015
Essentra Components products, formerly sold under the Reid Supply brand, include many essential tools and equipment and industrial supplies that are used on a regular basis by maintenance and factory technicians, mechanics and others. Many of the sale items are on clearance, and therefore offer substantial savings for this short-term special promotion.
The full product line includes knobs, handles and hand wheels, clamps and workholding, tooling components, fasteners and hardware, levelling devices and vibration control, material handling, bearings and power transmission, metalworking, tools, maintenance and shop supplies, pneumatics and hydraulics and structural systems. The sale items include the majority of items from this full product line, plus safety products.
A special 32-page color catalog is available to download. This catalog contains the details and various discounts for each of the Holiday Sale and Clearance Sale items. The catalog can be downloaded at: http://us.essentracomponents.com/shop/OrderCataloguesDisplay?catalogId=10051&langId=-1&storeId=10152. Select the "2015 Holiday Savings Flyer" to download the pdf catalog, or you may order a hard copy catalog.
For more information on Essentra Component products, visit: http://us.essentracomponents.com/
About Essentra Components
Essentra Components manufactures and distributes small, essential components, such as protective plastic caps, workholding clamps, fasteners, handles & knobs and PCB hardware.
As part of its Vision 2015 strategy, three companies: Alliance, Reid Supply, and Richco Inc. were joined together to form Essentra Components America. This provided our customers with a vast selection of industrial components with regional distribution sites across America and an international network extending to Europe, the Middle East, Africa and Asia Pacific regions, including 42 principal manufacturing facilities, 64 sales and distribution operations and 5 research/development centers.
Essentra Components offers over one billion parts stocked with fast same-day shipping. We offer free sampling on many standard products, and free CAD drawings for all catalog items.
Browse online Essentra Component product categories and/or request a free catalog.
About Essentra plc
Essentra plc is a FTSE 250 company and a leading global provider of high volume, essential components and solutions, which serve customers in a wide variety of end-markets and geographies. Headquartered in the United Kingdom, Essentra's global network extends to 33 countries and includes 9,000 employees, 69 principal manufacturing facilities, 64 sales and distribution operations and 5 Research and Development Centers. For further information, please visit http://www.essentra.com.
Essentra Press Contact
Joan Sherburn
Marketing Services Manager
Essentra Components
Email: JoanSherburn(at)essentra(dot)com
Phone: 231-767-3711
Address: 2265 Black Creek Road
Muskegon, MI 49444