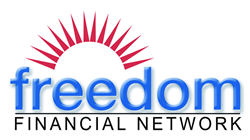 We're seeing consumers saving much more, as well as investing in larger items such as vehicles and major home improvements.
San Mateo, Calif. (PRWEB) December 15, 2015
This December, economic observers are watching an unusual financial trend: U.S. consumers have been saving more than they spend, and avoiding greater credit card debt as the holidays approach, according to the Freedom Financial Network Quarterly Comment on consumer debt and credit issues.
In October – the most recent data available – consumers saved most of their higher earnings, pushing the U.S. personal savings rate to 5.6 percent, the highest in three years. This trend is also reflected in just a 0.2 percent increase in revolving debt balances, such as credit card account balances, in October. Growth in non-revolving debt (debt for items such as vehicles and education) increased 7.4 percent.
"We're seeing consumers saving much more, as well as investing in larger items such as vehicles and major home improvements," said Kevin Gallegos, vice president of Phoenix operations for Freedom Financial Network (FFN). "Possibly, consumers who are finally seeing earning increases feel more confident in their employment situation, years after the Great Recession's end. They may have learned a lesson from that downturn and may be seeking to provide greater stability in case of future ups and downs."
Some observers speculate that ongoing uncertainty – from recent terrorist attacks to volatile oil prices and employment – is affecting consumers' desire to spend. Others believe consumers have one eye on possible inflation or a potential future interest rate hike by the Federal Reserve.
"Certainly, we are living in interesting economic times," added Andrew Housser, FFN co-founder and CEO. "At the same time as consumers are saving more and curbing spending increases, the growth in non-revolving debt – which includes personal installment loans – could also indicate a level of responsible behavior." Pointing to the increase in installment lenders such as FreedomPlus, he explained that most of the loans these companies make are debt consolidation loans consumers use to pay down debt. "Time will tell if this is a lasting change in consumer behavior."
Freedom Financial Network observes several economic indicators closely and provides consumer education in its work to help consumers get out of debt and stay out of debt.
Recent financial data as reported:
1. Non-revolving consumer debt outpaces credit cards. In October (the most recent data available), total outstanding consumer credit rose by 5.5 percent, to a total projected $3.512 trillion, excluding mortgage debt. Outstanding debt has hit a new high each of the past 47 consecutive months. In October, growth in non-revolving debt (debt for items such as vehicles and education, as well as unsecured installment loans) strongly outpaced revolving debt (primarily credit cards) – 7.4 percent and 0.2 percent, respectively.
2. Personal income continues to rise. In October (the most recent data available), personal income increased by another $68.1 billion, or 0.4 percent, a pace that has held steady for the past two quarters. Disposable personal income also increased by 0.4 percent, or $56.8 billion. Personal spending increased, but slowly, rising just 0.1 percent in October. Overall wages and salaries rose by $45.0 billion in October.
3. Personal savings rate edges up again. In October, consumers saved 5.6 percent of their income, slightly higher than in the previous month, and the highest savings rate in three years.
4. Unemployment remains modest. In November, the U.S. unemployment rate was 5.0 percent, similar to recent months. Over the past 12 months, the unemployment rate has declined by 0.8 percent, or 1.1 million jobs.
The FFN Quarterly Comment pulls together significant statistical releases and provides quarterly comment on timely debt and credit issues that matter to consumers. To schedule an interview with Kevin Gallegos or Andrew Housser, contact Aimee Bennett at 303-843-9840 or aimee(at)faganbusinesscommunications.com.
Freedom Financial Network (http://www.freedomfinancialnetwork.com)
Freedom Financial Network, LLC (FFN), provides comprehensive consumer credit advocacy services. Through the FFN family of companies – Freedom Debt Relief, Freedom Tax Relief, ConsolidationPlus, FreedomPlus and Bills.com – FFN works as an independent advocate to provide comprehensive financial solutions, including debt consolidation, debt resolution, debt settlement and tax resolution services for consumers struggling with debt. The company, which has resolved more than $4 billion in debt and assisted more than 300,000 clients since 2002, is an accredited member of the American Fair Credit Council, and a platinum member of the International Association of Professional Debt Arbitrators.
Based in San Mateo, California, FFN also operates an office in Tempe, Arizona. The company, with more than 900 employees, was voted one of the best places to work in the San Francisco Bay area in 2008, 2009, 2012, 2013 and 2014, in the Phoenix area in 2008, 2009, 2010, 2012, 2013, 2014 and 2015. FFN's founders are recipients of the Northern California Ernst & Young Entrepreneur of the Year Award.
(end)