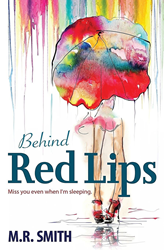 (PRWEB) December 16, 2015
What's really "Behind Red Lips?" Charlotte is obsessed with wearing red lipstick, her trademark. It's what she hides behind, and it's the only thing that makes her feel good. She tiptoes along the edges of love, but is afraid to take the plunge.
All because, once upon a time Charlotte was devastated by a breakup with her boyfriend Mason, back when she was sixteen. Eleven years later, she still carries the scars of heartbreak from her first love and it's affecting her mental health. Charlotte suffers from anxiety, panic attacks and depression, and she's paranoid that she'll just keep getting hurt in relationships.
When one day Charlotte bumps into her long-lost love, she runs away, not wanting to deal with her demons. Can Charlotte face her problems and find inner peace? Will her story end in joy? Read what happens when Mason steps back into her life.
This insightful novel is inspired by a true story.
Watch the video at: https://youtu.be/powTn2Wxi08
About the Author: M. R. Smith grew up in one of the most beautiful cities in the world, Cape Town, South Africa. In 1977, she migrated with her husband and three children to Melbourne Australia, and has since moved to Perth. "I've always loved fantasy, and like most of us, like to be taken away."
The compelling book BEHIND RED LIPS (ISBN: 978-1-45662-496-5) is now available for $19.95 (eBook, $7.99) and can be ordered through the publisher, eBookIt.com:
http://www.ebookit.com/books/0000004246/Behind-Red-Lips.html or at Amazon.com or Barnesandnoble.com.