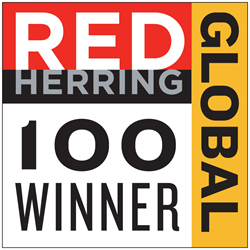 Sunnyvale, CA (PRWEB) December 15, 2015
Quisk is pleased to announce that it has been selected as one of this year's Red Herring 100 Global Winners. Earlier this year Quisk was selected as a Red Herring 100 North America Winner.
Red Herring's Top 100 Global list has become a mark of distinction for identifying promising new companies and entrepreneurs. Red Herring editors were among the first to recognize that companies such as Facebook, Twitter, Google, Yahoo, Skype, Salesforce.com, YouTube, and eBay would change the way we live and work.
"Choosing the companies with the strongest potential was by no means a small feat," said Alex Vieux, publisher and CEO of Red Herring. "After rigorous contemplation and discussion, we narrowed our list down from hundreds of candidates from across the globe to the Top 100 Winners. We believe Quisk, Inc. embodies the vision, drive and innovation that define a successful entrepreneurial venture. Quisk should be proud of its accomplishment."
Red Herring's editorial staff evaluated the companies on both quantitative and qualitative criteria, such as financial performance, technology innovation, management quality, strategy, and market penetration. This assessment of potential is complemented by a review of the track records and standing of startups relative to their peers, allowing Red Herring to see past the "buzz" and make the list a valuable instrument of discovery and advocacy for the most promising new business models from around the world.
About Quisk
Quisk, Inc. based in Silicon Valley, partners with financial institutions and other organizations to enable anyone to use their money without needing cash or cards. Quisk provides a digital services and transaction processing platform for integrated mobile payments and digital marketing and loyalty programs.
Deploying cloud-based technology, the Quisk digital cash solution not only works with any mobile phone number on any type of mobile phone, but also leverages existing Point-Of-Sale (POS) infrastructure.
The Quisk team is comprised of technology and payments industry veterans from Cybersource/Visa, Paypal, and Apple. Quisk headquarters are in Sunnyvale, CA, with an additional office in Louisville, KY. Quisk operates in the MENA region through its subsidiary, Quisk Middle East FZ LLC located in Dubai, U.A.E. Learn more at: http://www.quisk.co