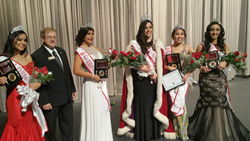 These full scholarships from CIAM will help these young women become tomorrow's strong business leaders.
El Monte, CA (PRWEB) December 28, 2015
$40,000 in scholarships was presented by California Institute of Advanced Management (CIAM) in support of the El Monte and South El Monte Chambers of Commerce. The two full scholarships were awarded to the winner and the runner up in the Miss Friendly El Monte/South El Monte pageant, held at the El Monte High School on Saturday, May 12, 2015. This is the third year that CIAM has supported the Chambers of both El Monte and South El Monte in their higher education and scholarship focused event by providing a full tuition and text-book scholarship.
This year CIAM provided two full tuition scholarships to the Queen and First Runner-up in the pageant. The young ladies compete for scholarship money and the right to represent the chamber, the city, and the causes in which the young ladies believe. CIAM is proud to be a good neighbor in the City of El Monte in awarding these scholarships. These full scholarships will help these young women become tomorrow's strong business leaders.
The CIAM MBA program consists of 12 courses. Each course integrates the classroom with an actual consulting project at a US or international business. Graduates of the CIAM MBA program gain practical experience in a real world setting, solving problems for companies. Graduates build their portfolios, not just their resumes. The expertise gained in this unique MBA program includes Leadership, Entrepreneurship, Consultancy, and Executive Management.
The cost of the complete CIAM MBA program, including text books is $20,000, far lower than for universities offering standard MBA programs. Students may complete the total program in 11month by taking 2 courses per 7 week term, or complete the degree in 22 months by taking only one course at a time.
The CIAM MBA program is available on campus as well as on line. New courses start every 7 to 9 weeks. Contact Penny Li at CIAM. Penny.li(at)ciam.edu. Please visit the CIAM web site. http://www.ciam.edu. Or contact Gene Raltz, gene.raltz(at)ciam(dot)edu; Phone: 626-350-1500, ext. 105.