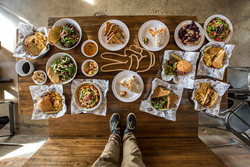 "Ogden is our ideal city. The resurgence of pride in the historic district, passion for recreation and local love is simply infectious."
Ogden, UT (PRWEB) December 15, 2015
An award-winning restaurant incorporating the buy-one-give-business model is coming to 2214 Washington Blvd in February 2016.
Even Stevens Sandwiches is a Salt Lake City native craft-casual restaurant serving sandwiches, salads, bites under $5, breakfast, and locally-sourced items (craft beer, specialty coffee, and bakery sweets) unique to each store's location. By offering fresh updates on nostalgic recipes, the "anti-cookie cutter" brand nods to tradition while celebrating creativity. The concept was awarded Best New Concept by the Utah Restaurant Association in May of 2015.
"[Ogden] is our ideal city. The resurgence of pride in the historic district, passion for recreation and local love is simply infectious," says Even Stevens. "Ogden was built by a railroad spirit of labor and progress - and we believe that spirit is still very much alive. We can't wait to put our stake in the ground and take part in it." 
Beyond serving customers, Even Stevens is "a sandwich shop with a cause". For every sandwich sold, they donate a sandwich to a local non-profit partner. Since opening their first restaurant on June 24th 2014, the brand has donated over 200,000 sandwiches to the Salt Lake community. Allowing their non-profit partners to save cash on feeding community members in need and instead direct their resources towards life-changing programs.
"We serve over 1,000 hungry individuals and families each week, and Even Stevens will allow us to provide more nutritious food to those in need. With [their] help we can ensure no one in Northern Utah goes hungry." Says Danielle Stamos, Director of Public Relations at CCS of Utah.
Even Stevens Ogden will be donating sandwiches through four local non-profits: CCS of Northern Utah, Ogden-Weber Community Action Partnership, Youth Futures Shelter Home and the Boys & Girls Clubs Weber Davis.
"Food connects everyone, and community is our recipe book," says Jamie Coates, Even Stevens' Creative Director. "While supporting local non-profits, we embrace and activate local culture". Every Even Stevens upholds the character of the surrounding city and engages with local artists, crafters and businesses to make their guest experience unique. Live local musicians grace the shop weekly, and local artwork is commissioned for the shop's walls.
"Food service is more than a job. It's a collective belief system. We're growing fast and welcoming like-minded individuals to join our team." Says Michael McHenry, Even Stevens' Chief Operations Officer.