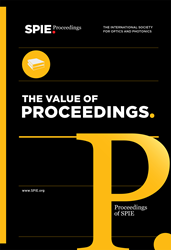 SPIE proceedings have information that you don't get otherwise.
BELLINGHAM, Washington, USA, and CARDIFF, UK (PRWEB) December 14, 2015
Being first and getting noticed matter more than ever in an increasingly fast-paced and competitive global marketplace, for individuals sharing research findings or companies wanting to establish intellectual property rights. "The Value of Proceedings," a new white paper from SPIE, the international society for optics and photonics, details how publishing in the right outlet puts research in front of potential collaborators who can be key in commercializing new technology.
Publishing regularly in conference proceedings provides the discovery history for important new innovations, with findings reported as the research progresses.
Besides illuminating the way forward for other researchers, proceedings papers also provide valuable information on what not to do, as inconclusive or negative results are included in the papers.
Publishing in a widely indexed library among many other papers in the same field is also important.
Proceedings of SPIE, published in the SPIE Digital Library, are strong in both regards. Papers are indexed in Web of Science, Scopus, Ei Compendex, SAO/NASA Astrophysics Data System, and others.
The collection includes more than 400,000 papers in fields across optics and photonics, including numerous multidisciplinary topics. Approximately 18,000 new papers are added each year.
Both user comments and industry data show the effectiveness and usefulness of publishing in the collection.
Proceedings of SPIE were listed among the 50 most-used out of 50,000 serials analyzed by Ex Libris, a provider of library automation software, in its latest report.
Of the top 40 patenting companies in the most recent analysis of U.S. patents, 28 companies cite SPIE publications significantly. Industry leaders such as Apple, Inc., Bosch GmbH, Intel Corporation, Microsoft Corporation, Samsung Electronics Co. Ltd., Toyota Motor Corporation, and others are among those whose patent applications frequently cite SPIE publications.
For researchers, proceedings offer a valuable resource of unreplicated material.
"SPIE proceedings have information that you don't get otherwise," notes a professor at the University of Åarhus in Denmark.
A researcher at the National University of Ireland says, "Many research groups present their current work at conferences, and often material is covered in a conference proceedings that is never published in a journal article."
Key topical areas covered in the Proceedings of SPIE represent the most dynamic research fields and fastest-growing industry sectors:

Astronomy
Biomedical Optics and Medical Imaging
Communication and Information Technologies
Defense and Security
Electronic Imaging and Signal Processing
Energy
Lasers
Light Sources and Illumination
Lithography and Microelectronics
Metrology
Nanotechnology
Optics
Remote Sensing
Sensors.
More information and a link to the white paper are at http://www.spie.org/publications/conference-proceedings.
About SPIE
SPIE is the international society for optics and photonics, an educational not-for-profit organization founded in 1955 to advance light-based science and technology. The Society serves nearly 264,000 constituents from approximately 166 countries, offering conferences and their published proceedings, continuing education, books, journals, and the SPIE Digital Library in support of interdisciplinary information exchange, professional networking, and patent precedent. In 2015, SPIE has provided more than $5.2 million in support of education and outreach programs. SPIE is a Founding Partner of the International Year of Light and Light-based Technologies and a Founding Sponsor of the U.S. National Photonics Initiative. http://www.spie.org