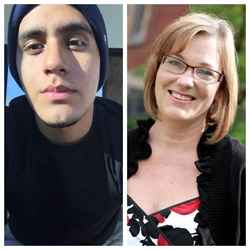 Kirkland, WA (PRWEB) December 16, 2015
SR Education Group's scholarship committee is pleased to announce that it has selected two $2,500 community college scholarship winners in the month of December. The committee took special care in awarding the $5,000 in scholarship money to the two most deserving applicants. Hernan Cortes of Reedley College and Rebecca Bender of Spokane Community College were picked due to their exceptional abilities to overcome financial hardships.
"This scholarship means so much to me," said Rebecca Bender of Spokane Community College. "As a single mom, I struggle with finances and making ends meet continuously. My heart is full of gratitude. Thank you so much for believing in me." Rebecca has dedicated her time to various non-profits and hopes to one day open a community for homeless single fathers. She is the first of her family to attend college and is majoring in Public Service Administration.
When Hernan Cortes was told he won the Community College scholarship, he responded simply, "Dreams don't work unless you do." Hernan is going to school for his automotive technology degree and hopes to one day open his own shop. He had a baby boy this summer and told us, "Having a baby made me change my perspective on a lot of things; He motivated me to do better." This scholarship will help Hernan scale back on his full time job so that he can focus on his family and his studies during this upcoming semester.
There were five outstanding finalists who did not win the December 2015 Community College Scholarship. To recognize that there are still many students who need help, SR Education Group decided to award each finalist $100. These candidates have faced a variety of personal and financial hardships, and each has chosen to attend community college to save money. "We had no steady income that entire year, and we still have no flow of income now. I thought it would be wise to go to community college and receive an associate's degree so I can help my dad with living expenses," said one finalist. The five finalists for SR Education Group's Community College Scholarship were: Austin Wang, Courtney Karr, Gabrielle Pemberton, Ivy Huge, and Oscar Gonzales.
For the next round of scholarships, SR Education Group is offering two $2,500 Community College Scholarships and one $5,000 Graduate Scholarship for Teachers.
About SR Education Group's Scholarships
SR Education Group is offering two needs-based $2,500 scholarships for full-time students attending community college. The next deadline for the Community College Scholarships is March 26, 2016. There is also a $5,000 needs-based graduate scholarship meant for teachers returning to school to further their careers. The deadline for the Graduate Scholarship for Teachers is January 5, 2016. Find out more at http://www.sreducationgroup.org/#scholarships
About SR Education Group
Headquartered in Kirkland, WA, SR Education Group was founded in 2004 by CEO Sung Rhee. The company's mission is to create authoritative online resources for students seeking an online education program that best suits their budget and career aspirations. SR Education Group is passionate about making quality education attainable for everyone and believes that objective information about education, careers, and educational financing should be free and easily accessible. For more information, please visit http://www.sreducationgroup.org.