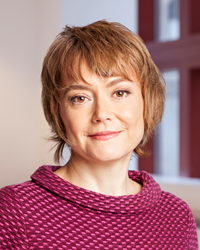 New York, NY (PRWEB) December 15, 2015
Cornerstone Research, a leading provider of economic and financial consulting and expert testimony, announced today that Professor Tülin Erdem has affiliated with the firm. She is the Leonard N. Stern Professor of Business and Professor of Marketing at the Stern School of Business, New York University.
"Tülin is a marketing expert who brings a rare combination to commercial litigation: in-depth knowledge on consumer behavior, and econometric modeling skills," said Cornerstone Research President and CEO Michael E. Burton. "Our clients will benefit from her experience testifying in litigation where brands and the impact of a company's marketing strategy are pivotal issues."
Professor Erdem's testimony has covered matters relating to consumer demand for product features, consumer behavior and decision making, brand equity and positioning, trademark infringement, and the effect of marketing strategies. She has served as an expert in legal matters involving a variety of industries, including consumer medical devices, consumer packaged goods, credit cards, media, entertainment, and high-technology products. Professor Erdem teaches classes and conducts research on branding and brand management, consumer choice and decision making, econometric modeling, marketing research, advertising, pricing, and customer relationship management.
Her research has been published in numerous peer-reviewed journals. She has received best paper awards, as well as major research grants, including two funded by the National Science Foundation. Professor Erdem was the editor-in-chief of the Journal of Marketing Research, an area editor of Marketing Science, and an associate editor of the Journal of Consumer Research and Quantitative Marketing and Economics. She is a past president of the INFORMS Society for Marketing Science.
At NYU, Professor Erdem codirected the Center for Digital Economy Research (CEDER) and directed the Stern Center for Measurable Marketing. Previously, she was the E.T. Grether Professor of Business Administration and Marketing at the Haas School of Business at the University of California, Berkeley, where she chaired the Marketing Group.
About Cornerstone Research
Cornerstone Research provides economic and financial consulting and expert testimony in all phases of complex litigation and regulatory proceedings. The firm works with an extensive network of prominent faculty and industry practitioners to identify the best-qualified expert for each assignment. Cornerstone Research has earned a reputation for consistent high quality and effectiveness by delivering rigorous, state-of-the-art analysis for over 25 years. The firm has more than 500 staff and offices in Boston, Chicago, London, Los Angeles, Menlo Park, New York, San Francisco, and Washington.
Please visit Cornerstone Research's website for more information about the firm's capabilities in economic and financial consulting and expert testimony.
Twitter: @Cornerstone_Res