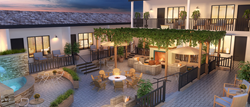 "Hotel Carmel is a very special project for us – it's unlike anything else in the Classic portfolio and something completely new for Carmel-by-the-Sea," said John Grossman, President of Classic Hotels & Resorts.
Carmel-by-the-Sea, Calif. (PRWEB) December 16, 2015
Classic Hotels & Resorts introduces Hotel Carmel, the latest addition to its growing California Coastal Collection of boutique hotels. Hotel Carmel will open March 31, 2016 and is located in the heart of the charming seaside village. Classic Hotels specializes in providing one of a kind travel experiences, crafted to resonate with each property's surroundings. With two quintessential hotels in Laguna Beach and another boutique property in Carmel, this newest hotel marks the brand's fourth along California's iconic coastline. Hotel Carmel, formerly known as the Dolphin Inn, will be closed through winter to undergo an extensive, $2.5-million renovation that includes upgrades to all accommodations, as well as all public and meeting spaces.
The new Hotel Carmel will marry traditional Carmel-by-the-Sea cottage architecture with rustic-modern décor inspired by the artistic and organic communities of Big Sur and Carmel. Each of the spacious 27 guestrooms and suites, half of which feature in-room fireplaces, will be refreshed with a contemporary, relaxed design that incorporates a welcoming palette of natural wood, reminiscent of the nearby scenic Pacific coastline. Big Sur coastal photography by Matt Schwartz of She Hit Pause photography will further establish the hotel's unique sense of place by weaving the best of the Central California coastline throughout the guest experience.
The hotel's public spaces will also be redesigned, including the creation of an intimate courtyard garden complete with outdoor fire pit and oversized Jacuzzi. As the communal gathering place and focal point of the property, the beautifully landscaped terrace will be ideal for intimate weddings and events. In the lobby, guests will be greeted by a casual rustic farm table check-in, and then welcomed into a comfortable living room and library with breakfast and reading nooks. Guests will also enjoy morning offerings around a large communal marble-top table, and relax during the nightly wine hour in the living room "library," complete with a vintage cassette tape player with more than three hundred tapes to choose from.
Brophy's Tavern – a perennial favorite of neighbors and visitors alike – will continue to be operated as a sports bar and local watering hole. The bar and restaurant will benefit from an extensive and "good old fashioned" overhaul. The walls will be adorned with 1,000 vintage beer cans, authentic sporting paraphernalia (complete with two jerseys worn in the 1953 USA vs. Australia Rugby exhibition game by Ted Grossman, John Grossman's uncle), a vintage, refurbished Rock-Ola Bubbler Juke Box and a collection of mounted game horns and taxidermy. Proximate to Brophy's is a refreshed boardroom, suitable for meetings and private events for 15-25 people.
"Hotel Carmel is a very special project for us – it's unlike anything else in the Classic portfolio and something completely new for Carmel-by-the-Sea," said John Grossman, President of Classic Hotels & Resorts. "We've created a design concept that simultaneously celebrates the town's historic architecture and distinct characteristics while incorporating contemporary styling. The new property will be a modern twist on classic Carmel, and offer a truly unique experience for those who regularly visit Carmel and for those coming for the first time."
The project team, led by Classic Hotels & Resorts, features interiors by Anthony Agriam of Bishop Pass Design, a Los Angeles-based firm known for innovative and engaging design concepts throughout California, including Curtis Stone's Maude restaurant in Beverly Hills and Venice's beloved Gjelina. Original in-room art created for the hotel by Matt Schwartz, a fine artist photographer, will be featured throughout.
The hotel's name was inspired by the original Hotel Carmel, one of the town's very first hotels built in 1895 just a few blocks away, back in a time when guests arrived by horse and carriage. The property burned down in July 1931, almost 85 years before Classic Hotels & Resorts will revive the legacy of the historic Hotel Carmel.
The property is located in the heart of Carmel-by-the-Sea, a quaint European-style village with cobblestone streets dotted with cottages, galleries, boutique shops, wineries and acclaimed restaurants all nestled above a picturesque white-sand beach in California's breathtaking Central Coast. A few blocks away, Classic Hotels & Resorts also owns and operates La Playa Carmel, one of the town's oldest, most cherished landmarks. Perched above the Pacific Ocean with breathtaking views, the "Grande Dame of Carmel" was originally built in 1905 as a private mansion for a member of the Ghirardelli family. Building upon its rich history and tradition, the 75-room luxury hotel underwent a restoration in 2012 to thoughtfully restore and modernize the historic property, positioning it for success for the next 100 years. Loyal guests find all of the original old-California charm intact, along with beautiful English gardens, tranquil patios and inviting courtyards throughout.
Two boutique hotels in Laguna Beach round out the brand's California Coastal Collection. The Inn at Laguna Beach is the ultimate jumping off point for all things Laguna. This 70-room oceanfront retreat easily boasts the best location in town, just steps from the shores of Main Beach and blocks from downtown and the town's vibrant art culture. The hotel's rooftop terrace offers unbeatable ocean views and is a perfect vantage point for savoring SoCal's epic sunsets. Two blocks north is its sister property, the Laguna Beach House, which debuted in Spring 2015. The 36-room surf lodge has a true laidback California vibe that pays homage to the local surf and skate culture with vintage memorabilia throughout and handmade surfboards in each of the guestrooms. Both properties offer unique vacation experiences for exploring all that Laguna has to offer. Also part of the Classic Hotels & Resorts portfolio is the Arizona Grand Resort & Spa, located in sunny Phoenix. Nestled at the base of the South Mountain Preserve, the 744-room all-suite resort features over 80,000 square feet of indoor meeting space, 10 outdoor event venues and a seven-acre water park.
Hotel Carmel is currently accepting reservations for stays beginning March 31, 2016. To make reservations, please call 855-6-CARMEL (855-622-7635) or visit http://www.TheHotelCarmel.com.
About Classic Hotels & Resorts:
Classic Hotels & Resorts (CHR) is an affiliate of Grossman Company Properties (GCP). GCP is one of the premier commercial and residential developers in the Western United States. During the past 50 years, GCP has built, developed and managed more than 14 million square feet of high-quality properties, including Laguna Beach House, Arizona Biltmore Resort & Spa, La Playa Carmel, The Inn at Laguna Beach, Biltmore Fashion Park and the Phoenix Spectrum Mall. Additional information is available at http://www.ClassicHotels.com.
Media Contact:
Meredith Strodel / Sara Swiger
Castillo & Ruig Communications
310-664-8867
mstrodel(at)discovercrc(dot)com / sswiger(at)discovercrc(dot)com
###