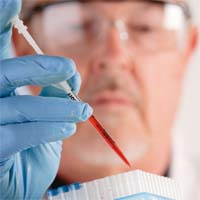 This study is important because biomarkers are so important. Biomarkers give clinicians critical information...
Raleigh, NC (PRWEB) December 16, 2015
Researchers in Catania, Italy have released a new report detailing what they believe are the most promising biomarkers for mesothelioma and how they may help mesothelioma patients. Surviving Mesothelioma has just posted an article on the report. Click here to read it now.
Doctors at the University of Catania say signaling proteins, immune systems tests, and nuclear imaging offer the best hope for predicting mesothelioma outcomes.
"Fluorodeoxyglucose-PET, microarray expression data, neutrophil-to-lymphocyte ratios, c-MET expression, Ki-67 ratios and fibulin-3 levels have also been associated with disease outcome," writes researcher Paolo Vigneri with the University's Department of Clinical and Experimental Medicine.
The article, published in Future Oncology, says the protein mesothelin, in combination with a particular miRNA, remains the best biomarker for mesothelioma diagnosis.
"This study is important because biomarkers are so important," says Alex Strauss, Managing Editor of Surviving Mesothelioma. "Biomarkers give clinicians critical information that can help them both identify this deadly cancer in its early stages and design treatments that will offer the best possible mesothelioma outcomes,"
To better understand the role biomarkers play in mesothelioma diagnosis and prognosis, see Biomarkers for Mesothelioma Diagnosis and Prognosis, now available on the Surviving Mesothelioma website.
Vigneri, P, et al "Biomarkers and prognostic factors for malignant pleural mesothelioma", November 2015, Future Oncology, pp. 29-33, http://www.futuremedicine.com/doi/abs/10.2217/fon.15.317?journalCode=fon
For nearly ten years, Surviving Mesothelioma has brought readers the most important and ground-breaking news on the causes, diagnosis and treatment of mesothelioma. All Surviving Mesothelioma news is gathered and reported directly from the peer-reviewed medical literature. Written for patients and their loved ones, Surviving Mesothelioma news helps families make more informed decisions.