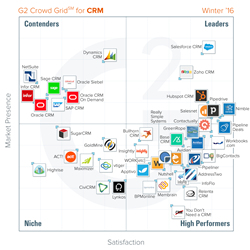 CHICAGO, IL (PRWEB) December 15, 2015
G2 Crowd, the world's leading business software review platform, today released the Winter 2016 Customer Relationship Management Software (CRM) GridSM report to help businesses make the best technology decisions. Salesforce CRM, Nimble, HubSpot CRM, Pipedrive, Zoho CRM, PipelineDeals and Salesnet were named Leaders in the report, receiving strong customer satisfaction scores with large market presence scores. Additionally, 19 products were named High Performers, with Contactually, Workbooks.com, Prophet CRM and BigContacts receiving the strongest customer satisfaction scores with smaller market presence scores. Nimble earned the highest overall satisfaction score while Salesforce CRM earned the highest overall market presence score.
The GridSM leverages customer satisfaction data reported by authenticated users along with vendor market presence determined from social and public data. Based on a combination of these scores, each software solution is categorized as Leader, High Performer, Contender, or Niche.
Key Findings:
CRM software tools have a wide variety of features, including sales force automation, marketing automation, customer support, reporting and analytics, mobile and social, platform, and integration. The sales force automation feature category garnered some of the highest ratings across the board, with contact and account management receiving the highest average satisfaction score of 86 percent. The platform feature category had comparable ratings, with scores spanning from 77 percent to 85 percent.
Across the board, customer service was king as products with the best customer service faired better in other satisfaction categories as well, and poor customer service tainted reviewers' entire sentiment about a product. Reviewers often demanded quicker response times, around the clock support, better educational materials and optimization ideas from their software providers.
Key findings also revealed that mobile and social features need improved functionality. Within the mobile and social feature category, mobile user support, social collaboration features and social network integration were all rated at 72 percent, the lowest rated features across all product feature categories.
G2 Crowd users contributed more than 1000 new reviews of CRM products since the Spring 2015 GridSM report, resulting in multiple changes. Pipedrive experienced the most dramatic GridSM change, as it moved from High Performer to Leader with a 27-point increase in customer satisfaction, and a 21-point increase in market presence. In addition to Pipedrive, other products that moved from High Performer to Leader included PipelineDeals and Salesnet, which both received increased market presence scores.
About the CRM GridSM report:
● The report is based on more than 3,400 reviews written by business professionals.
● Of the roughly 200 products listed in G2 Crowd's CRM Software category, the ranked products each received 10 or more reviews to qualify for inclusion on the GridSM.
● Products appearing on the CRM GridSM for the first time include Hubspot CRM, BigContacts, AddressTwo, Bullhorn CRM, bpm'online CRM, You Don't Need a CRM! and Lynkos.
_______________
About G2 Crowd, Inc.
G2 Crowd, the world's leading business software review platform, leverages its 44,000-plus user reviews to drive better purchasing decisions. Technology buyers, investors, and analysts use the site to compare and select the best software based on peer reviews and synthesized social data. Co-founded by the founder and former executives from SaaS leader BigMachines and backed by roughly $12 million in capital, G2 Crowd aims to bring authenticity and transparency to business technology research. For more information, go to G2Crowd.com.
Follow us on Twitter or connect with us on Facebook or LinkedIn.
PR Contact:
Shasta Smith
G2 Crowd
shasta.smith(at)blancandotus(dot)com
(415) 856-5123