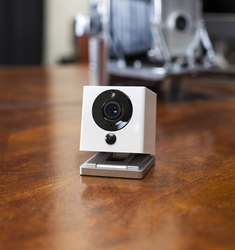 "Spot is groundbreaking in terms of price and performance, and we think our customers will agree that Spot is the best smart home camera ever." - Raymond Meng, CEO and Co-Founder
Sunnyvale, CA (PRWEB) December 15, 2015
The iSmartAlarm team has announced the launch of a Kickstarter campaign for their newest family member - Spot. Spot is a smart home camera, but WAY more than that. Spot is a new way to monitor a home. It is easy to use, packed with capabilities, and best of all – affordable to everyone.
Spot introduces amazing new features to the smart home camera market –

Sound Recognition has the ability to identify and notify users when carbon monoxide and smoke alarm sirens are detected.
Time Lapse custom videos allow users to record, store, and share custom time lapse videos with their friends.
The simple setup (with voice-guided walkthrough) allows Spot to be up and active in less than 3 minutes.
With the magnetic base plate for wall mounting and twistable, turnable, expandable legs, Spot can capture all angles of activity in a home.
Spot is designed to work by itself as a Wi-Fi smart home and security camera, and can also be linked with the iSmartAlarm Home Security System. Spot includes all of the features and options users expect in a home camera in an awesome little package - Night vision, HD resolution streaming video, motion detection, audio detection, local video storage (up to 64 GB Micro SD) and free cloud video storage, push notifications, app controls and visibility for iPhone and Android, Wi-Fi connection, 4x zoom, and 2-way audio.
The Spot Pre-Sale campaign on Kickstarter, launching Tuesday, December 15 and running into mid-January, offers significant discounts to contributors in multiple packages. The earliest contributors will receive Spot for only $49. With a 10-pack of Spots, customers can save over $500 off MSRP!
"Launching our Kickstarter campaign will allow Spot to reach a whole new level of awareness in North America. Spot is groundbreaking in terms of price and performance, and we think our customers will agree that Spot is the best smart home camera ever," Raymond Meng, CEO and Co-Founder of iSmart Alarm, Inc. said.
This is the first time an iSmartAlarm product has appeared on Kickstarter, but the company is no stranger to crowdfunding. Spot launched on the Indiegogo platform in mid-November 2015, and has already reached almost 400% of their funding goal with over 2,000 backers.
In January 2013, the iSmartAlarm Home Security System was launched on Indiegogo and closed at over 450% of their goal raised by 1,600 contributors and customers, making the iSmartAlarm the 7th most funded technology project in the world at the time.
In 2014, they launched the iCamera KEEP on Indiegogo as well, raising the bar by introducing the first motorized pan-tilt security camera with free video recording and storage.
iSmartAlarm Media
Twitter
Facebook
YouTube
About iSmart Alarm, Inc.
iSmart Alarm, Inc. was founded in Silicon Valley in 2012 on the principles of safety, beauty, and intelligence. We are pioneers and leaders in the best smartphone-enabled home security and home control system industry with rave reviews from CNET, Digital Trends, PC Mag, and others.
iSmartAlarm products have won national and international awards including the CEA Mark of Excellence, Red Dot Product Design Award, and PC Mag's Editor's Choice Awards. The iSmartAlarm Home Security System was featured in Coldwell Banker's "25 Smart Home Technologies that Matter Most to Home Buyers." iSmartAlarm products are sold nationally and internationally in Best Buy, Amazon, Staples, Apple Stores online, and many more locations.