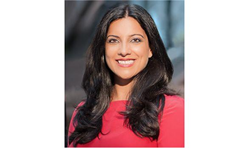 We are looking forward to the impact Reshma will have on our attendees and how attendees will positively influence students nationwide.
(PRWEB) December 15, 2015
Educators from across the country will convene at the Future of Education Technology Conference (FETC), January 12 - 15, 2016, at the Orange County Convention Center, Orlando, Fla. to engage with Girls Who Code Founder and CEO Reshma Saujani. The former Deputy Public Advocate of New York City, will be the opening keynote speaker at the 36th annual conference.
"As one of the largest national education technology conferences in the U.S., it is FETC's job to educate school leaders on emerging ed-tech trends, including STEM and coding, and how to teach these topics to all types of students," said Mike Eason, FETC General Manager, LRP Conferences. "We are looking forward to the impact Reshma will have on our attendees and how attendees will positively influence students nationwide."
According to Girls Who Code, women make up half of the U.S. workforce, but hold just 25 percent of the jobs in technical or computing fields. Saujani's organization works to educate, inspire and equip young women with the skills and resources to pursue academic and career opportunities in computing fields. Advocating for a new model of female leadership focused on risk-taking, competition and mentorship, Saujani is also the author of a book entitled, Women Who Don't Wait in Line.
As the Fund for Public Advocacy Executive Director, Saujani brought together public and private sectors to encourage entrepreneurship and civic engagement across New York City. In 2010, Saujani became the first South Asian woman to run for Congress, promoting policies to spur innovation and job creation.
"Reshma has been influential in closing the gender gap in STEM and coding and empowering girls to pursue careers in technology and engineering," said Eason. "We are confident she will inspire the thousands of educators and tech leaders attending FETC 2016."
Besides STEM and coding, FETC will spotlight the latest trends that are expected to saturate classrooms nationwide, including game-based learning; flipped learning; 3D printing; maker education; and mobile, online and blended learning.
FETC 2016 will feature more than 500 expert-led sessions and workshops and over 400 exhibitors designed to provide pre-K - 12 educators and administrators with an unparalleled opportunity to explore different technologies while increasing their familiarity with the latest devices, hardware, software and successful strategies for student technology integration.
To register for FETC 2016 and get information on sessions, presenters, exhibitors, workshops and registration, please visit http://www.fetc.org or call toll free 1-800-341-7874. Join the conversation by following the conference on Twitter (@FETC) and using and searching the hashtag (#FETC).
# # #
About Future of Education Technology Conference (FETC)
For 36 years, the Future of Education Technology Conference (FETC) has brought together education leaders and technology experts to exchange techniques and strategies for teaching and learning success. Known worldwide for its outstanding program, FETC provides educators and administrators the opportunity to explore the integration of technology across the curriculum — from pre-K - 12 — through hands-on exposure to the latest hardware, software and successful strategies.
About LRP Conferences, LLC
LRP Conferences, LLC, an affiliate of LRP Publications, produces more than a dozen professional conferences and trade shows annually, including: Campus Technology Conference, Transformational Technology in Higher Ed Conference, Ergonomics Conference & ErgoExpo, Future of Education Technology Conference (FETC), HR in Hospitality Conference, HR Technology® Conference & Exposition, Recruiting Trends Conference, and National Workers' Compensation and Disability Conference® & Expo.
About LRP Publications
LRP Publications, headquartered in Palm Beach Gardens, Fla., is known as educators' most trusted source for practical and legal education administration guidance and produces newsletters (Education Daily®), books, pamphlets, DVDs, audio conferences, eLearning courses, online services (Title1admin.com, EducationDaily.com and Special Ed Connection.com) and training tools to help educators implement sound programs and avoid compliance errors related to Title I, autism, discipline and more. LRP also produces professional education conferences including: National Institute on Legal Issues of Educating Individuals with Disabilities® and Special Education School Attorneys Conference. For a complete list of LRP products, eCourses and conferences, please visit http://www.lrp.com.
Note: Media representatives interested in attending and covering FETC 2016 can register online at http://fetcpress.org/credentials or on-site in the Press Room at the Orange County Convention Center where registered media representatives can schedule interviews, work stories or just relax. Media representatives are required to register and will not be admitted into any FETC venues without a badge issued by FETC press staff. There is no cost for media registration. The deadline to pre-register is Dec. 28.