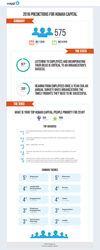 "The data from our most recent Waggl research pulse indicates that business and HR leaders around the world are not satisfied with the traditional annual employee survey as their primary means of listening to employees and distilling insights."
San Francisco, CA (PRWEB) December 17, 2015
Waggl, a simple way to crowdsource insight from a group of people, released new data today that indicates a significant gap between the intention and actual practice of business and HR leaders in listening to their employees.
Waggl recently asked 500,000 business leaders, HR leaders and consultants whether they believe listening to their employees and incorporating their ideas is critical to an organization's success. The response was overwhelmingly positive, with 97% of the people who participated answering YES. But, when asked whether hearing from employees once a year via an annual survey gives organizations the timely insights they need to be successful only 38% agreed.
The responses were fairly consistent across various sizes of organizations and job titles, but some interesting contrasts emerged between geographic regions. Amongst the participants from the West Coast of North America, only 31% felt that an annual survey was adequate, in comparison to 38% in aggregate. By way of contrast, 56% of the participants from the Asia Pacific region felt an annual survey was sufficient. Business leaders across every region were not satisfied with the annual survey as a method for listening to employees. With industries being disrupted every few years, hearing from employees only once a year falls short of an effective frequency of communication.
"The data from our most recent Waggl research pulse indicates that business and HR leaders around the world are not satisfied with the traditional annual employee survey as their primary means of listening to employees and distilling insights," said Michael Papay, CEO, Waggl. "It clearly illustrates that people based on the West Coast are most dissatisfied, which is not surprising, given the rate of change and disruption associated with many of the businesses headquartered there. Perhaps even more significantly, the data also raises the issue of why so many companies still rely heavily on the annual survey, when it is clear that most people believe strongly that incorporating employee ideas is critical to an organization's success. Recent research from Cisco indicates that all industries are feeling the force of digital disruption and most industries are now being disrupted every 3.1 years. Given this unprecedented pace of change, how can hearing from employees annually be enough?"
The Waggl Human Capital Pulse was sent to half a million HR leaders, business leaders and consultants through Executive Networks, Coach Source and Workboard over a one-week period of time from December 1-7, 2015. In addition to the first two questions, the Pulse also asked participants what their top human capital/people priority is for 2016. Here are the top five answers that were crowdsourced with over 7,500 votes on Waggl:
•74.1% voted for: "Encouraging/engendering a growth/ownership mindset, we call it leadership at all levels."
•73.1% voted for: "Leadership development throughout the field, with a strong emphasis on personal accountability."
•71.6% voted for: "Agility, collaboration and trust"
•71.1% voted for: "Finding the right talent who are innovative and can take the organization to the next level"
•70.6% voted for "Influencing the company culture to have more authentic, people-oriented managers"
This research project is the first of an ongoing series using a Waggl Pulse to poll an external audience. Waggl is typically used within organizations to collect and distill real-time feedback from employees. The platform provides a variety of templates for users to cultivate feedback in real-time, in only a few clicks. Results are available immediately to administrators and participants in the form of easily digestible infographics. Unlike traditional survey and polling platforms, Waggl creates a virtual dialogue with participants by asking open-ended questions. It's fast and easy to share through multiple channels, and adds a fun, gamified aspect to the process of collecting feedback.
###
About Waggl
Waggl is a simple way to surface and distill real-time actionable feedback. Named after the dance that bees do in a hive to transmit important information very quickly, Waggl lives at the intersection of two organizational realities; Companies want an engaged workforce and employees want to know that their opinions count. Waggl goes beyond the traditional survey by offering a fast and easy way to listen to many voices at once within an organization. With a highly seasoned management team and a Board including esteemed executives from Glassdoor, Success Factors, Hirevue, and Coupa, Waggl is leading the charge in helping companies of all sizes to succeed by building a listening culture.
If you're curious to know more about how Waggl works, visit: http://www.waggl.com.