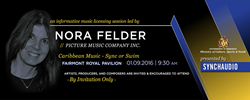 An Informative Music Licensing Session Led by Nora Felder, Picture Music Company.
Toronto, Ontario (PRWEB) December 17, 2015
Caribbean Music Synch or Swim Workshop will be hosted at the Fairmont Royal Pavilion in Barbados on January 9th, 2016. Leading the session will be Nora Felder, an accomplished music supervisor and President of Picture Music Company Inc. Nora will provide an informative music licensing session regarding industry opportunities for Caribbean music. Musicians will get clear information on how to climb the industry ladder, turning the complex process of music licensing into a step-by-step process with one of the field's most recognized industry professionals. Attendees will pick up valuable tips on how to obtain the best results in landing placements straight from the source.
Felder's supervision credits include Showtime's 2 huge hit series Californication and Ray Donovan, as well as the much anticipated new Netflix Series "Stranger Things" starring Winona Ryder. Her vast resume also includes acclaimed classic film features such as Parent Trap (1998), Evan Almighty (2007) and Hotel Rwanda (2004).
Nora also recently won the Hollywood Music & Media Award for "Outstanding Music Supervision in Television" and has received 2 nominations for the "Best Music Supervision in Television" by the prestigious Guild of Music Supervisors. In the wake of her upcoming appearance at Caribbean Music Synch or Swim Workshop, an enthusiastic Nora Felder says: "I'm very excited and couldn't be more thrilled to be able to experience this island country, known for its richness in culture and music."  
SynchAudio will open 2016's industry calendar with the same intense focus established in 2015, that includes expansion of it's continually growing music catalogue, along with worldwide showcase opportunities for it's artists, with an emphasis on obtaining unique licensing opportunities. As SynchAudio's vision is to create a platform to promote education in career development for songwriters and musicians, it is only befitting that they have chosen to start off the new year with this grand intro to world of the music licensing.
Seats for Caribbean Music Synch or Swim Workshop is an invitation only event, exclusive to artists, composers, musicians, producers, managers and other music industry professionals. 
SynchAudio is a Toronto based boutique media management & licensing company focusing on Multi-Media Initiatives. Contact submission(at)synchaudio(dot)com to submit your music for licensing consideration or email media(at)synchaudio(dot)com for press inquiries. Follow @SynchAudio for more great music industry news or log on to synchaudio.com to preview their extensive catalogue.