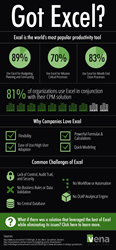 Our continued record growth is a reflection of our clients' satisfaction with embracing Excel for the enterprise. - Don Mal, CEO
Albany, NY (PRWEB) December 15, 2015
Vena Solutions, the fastest growing cloud-based provider of corporate performance management (CPM) software, today announced its seventh consecutive quarter of record growth. Fueled by the company's unique approach to helping medium and large sized organizations embrace Microsoft Excel as an enterprise-class business solution, Vena's Q3 highlights include (all figures Y/Y):

177% growth in annual recurring revenue (ARR)
91% growth in enterprise customers
"We're right where we want to be in our exponential growth plan, a sentiment shared by industry analysts and other influencers that know our sector intimately," said Don Mal, CEO at Vena Solutions.
In addition to its focus on enterprise-grade Excel, embracing one of the world's most popular and widely adopted software applications, Vena's continued record growth was driven by factors including:
Excelling beyond finance: increased adoption of Vena's spreadsheet business solutions in areas beyond finance, from sales and marketing to academic accreditation and program planning;
Industry recognition: Vena's unique approach of embracing Excel continues to gain recognition, from recent coverage by analyst firm 451 Research to accolades such as the Product of the Year Award for its Financial Close Management (FCM) solution from the Business Intelligence Group;
Innovation & expansion: significant license expansions, partly in anticipation of the company's product roadmap for 2016, including mobile dashboards and advanced data discovery functionality, along with other valuable business intelligence (BI) functionality.
"Our continued record growth is a reflection of our clients' satisfaction with embracing Excel for the enterprise," added Mal. "These results clearly validate our unique approach, and set us up for more widespread adoption moving forward."
About Vena Solutions – http://www.venasolutions.com
Vena turns Excel into an enterprise-class business solution with a centralized database and features including workflow, version control and a detailed audit trail. With Vena, hundreds of leading global brands now get trusted numbers and insights – fast – without sacrificing the significant investments they've already made in Excel spreadsheets, templates and models. They use Vena for both financial and strategic corporate performance management (CPM) applications including budgeting, forecasting, financial close and disclosure, in addition to managing a growing array of operational drivers and KPIs outside of finance. Vena is the fastest growing cloud CPM vendor, and the only one to embrace – not replace – Excel spreadsheets.
Media Contact:
Michael A. Corcoran
Vena Solutions
mcorcoran(at)venasolutions(dot)com
(416) 529-5709