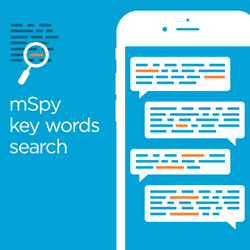 (PRWEB) December 21, 2015
A good Christmas gift for all parents. Christmas holidays are coming which means children will get an excess of free time soon. To secure children and make parents confident that children are safe mSpy introduces a new Keyword Tracking feature.
Parents are often not sure about some of their children friends or want to be 100% confident that children spend time in a good company. Now there is no more need to check all the messages at children devices secretly - parents can set up to 5 alert Keywords in mSpy Basic and 20 in mSpy Premium on the targeted device and follow the issues they are interested in. Keyword Tracking searches in Text Messages (SMS), Browser History and Bookmarks, Contacts, Calls, Emails, Events, Skype messages, Skype calls, Whatsapp messages, Viber messages, Viber calls, Installed apps, Notes, LINE messages, Instagram, Snapchat, Facebook messenger, Locations. If there any of the alert Keywords detected on the monitored device the user will receive a real-time notification to their control dashboard, email or sms. For more user's convenience, all alert Keywords will be highlighted across all recorded data types. For example, if the word "alcohol" appears in an e-mail, the user will see it highlighted in the body of that email.
Besides, mSpy records absolutely all activity on child's cell or computer. Actually, it now provides a wide range of features that safeguard modern children in most situations. It is one of the best ways nowadays to really acknowledge any child's interests and concerns. With the GPS tracking, parents can know if their children are in the wrong or dangerous neighborhood; with the messaging records, including texts, emails and most messengers - the cyber-bullying problem can be prevented. With the web browsing history reports, concerned parents can make sure that children are not spending time on pornography or gambling websites.
ABOUT MSPY
mSpy specializes in customized and user-friendly mobile & computer monitoring solutions, by utilizing the latest innovations in monitoring technologies. mSpy goal is to deliver the fastest and most secure solutions that suits most demanding parental and corporate needs and brings guaranteed results at an affordable price.