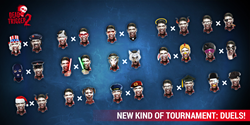 Therefore, we have greatly increased the number of tournaments, and introduced various themes such as Duel Factions.
Brno, Czech Republic (PRWEB) December 17, 2015
This year's Christmas update for Dead Trigger 2 proves that no gift goes unwanted. Over four days, players can find presents under the Christmas tree in their hideout. Meanwhile, players undertaking missions will see a festive theme!
This update also brings more new weapons to the game than ever before! Tools of destruction such as the Viking Sword, LAR Grizzly Mark V, Sten Mk II Silencer, MP 40, Z Hunter Machete, PP - 19 Bizon, Mauser C96, MAT 49 and XM8 all bring a new spirit to the game and add new variability for all types of gameplay. Their potential can be used in story missions, warfare and the tournaments.
New types of tournaments are ready for competitive players to show off their skills, and leaderboards keep track of statistics including the number of headshots, bosses killed, limbs shot out, miles run through the world, zombies killed with a deadly traps, and the maximum time spent in a tournament without killing anything.
MADFINGER Games is a steady and dominant player in multimedia entertainment focusing on mobile platforms. Founded in 2009, Madfinger's apps quickly shot to the top of the charts in sales. Soon after, MADFINGER Games began to cooperate with a number of notable companies within the games industry, and have been recognized with a series of prestigious awards. Much of this of recognition is due to Madfinger's signature stunning visuals and excellent gameplay experiences. Today, MADFINGER Games continues to expand its portfolio with an in-house staff of over 70 employees, and games that have been downloaded by more than 100 million players.
Dead Trigger 2 screenshots: http://bit.ly/dt2_screens