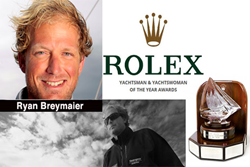 We look forward to supporting Ryan on his next project and the challenges it brings."
NHY, NY (PRWEB) December 16, 2015
As year 2015 comes to a close, American Record Breaking Sailor Ryan Breymaier is excited to announce that he has been nominated for the Rolex Yachtsmen of the Year Award. As heralded by US Sailing, this prestigious award is presented to the individual that has contributed the most significant sailing performances of the year. As the Co-Skipper and Program Director for Lending Club Sailing, Ryan's accomplishments over the course of 2015 are outstanding and include:

Sailing Speed Record - Cowes to Dinard - WSSRC Ratified Record - 138 nm English Channel Crossing, 5h 15m; average speed 26.36 knots
Sailing Speed Record - Newport to Bermuda - WSSRC Ratified Record - 635 nm course in 23h 9m 52s; average speed 27.41 knots
Sailing Speed Record - Los Angeles to Honolulu - WSSRC Ratified Record – 2215 nm in 3d 18h 9s; average speed 24.61 knots
"I am honored to be short-listed for the Rolex award," commented Breymaier. "It was an exciting year for Breymaier Sailing and the Lending Club Program. I would also like to thank the team and our support partners who worked diligently to help me make this exciting year a great success."
As the Co-Skipper of the Lending Club program, Ryan relied heavily on lead sponsor Lending Club as well a host of other corporate partners including Maui Jim Sunglasses,Switlik Survival Products and Marlow Ropes to make this record breaking year a success. The value that these partner sponsorships bring to the world of sailing are valued and meaningful.
"Since its founding 95 years ago, Switlik Survival Products has been associated with record makers and risk takers, such as Amelia Earhart, the 1st female aviator to fly solo both trans-continental and trans-Atlantic, and Admiral Richard Byrd, the first person to fly over the North Pole. Switlik manufactures best-in-class safety equipment and has always tried to align with athletes who are best in their fields, pushing the limits. We are thrilled to now be part of the Breymaier Sailing Partners. As a sponsor, Switlik Survival Products has experienced strong recognition and brand association with the Breymaier sailing team. Ryan is a loyal brand partner that always holds himself in a respectable manner and most importantly, Ryan and his team take care of the mutual interests of the sponsors, and always gives credit where it is due," states Stanley Switlik II, President & CEO of SWITLIK.
Current sponsor, Maui Jim, has been also been extremely pleased with the association to Ryan Breymaier. Maui Jim is known for their popular line of sunglasses bring brilliant colors to life with the revolutionary PolarizedPlus2® lens. Added Mike Battistoni, Fishing & Marine Specialist at Maui Jim, "as Ambassador for the Maui Jim brand, we fully support Ryan's ocean racing and record breaking campaigns and look forward to his next project bringing his sponsors to the forefront of the international ocean racing stage."
"We have been working with Ryan for some time now as a Technical Partner to his projects and we find the relationship very rewarding " says Paul Honess, Sales Director for Marlow Ropes. "Ryan's feedback and ideas help to develop our Grand Prix range of products which then go onto supply some of the world's most famous yachts from 100' trimarans to Record Breaking mono hulls. We look forward to supporting Ryan on his next project and the challenges it brings."
Breymaier Sailing recently announced a new sponsorship opportunity that includes a 2016 Vendee Globe Campaign. This alone, around the world, unassisted race is the premier sailing challenge and offers a sponsor world-wide, long term global exposure. Maui Jim, Switlik Survival Products and Marlow Ropes are signing on once a lead sponsor is named. Ryan is committed to making this new campaign a success and is excited to work toward new and higher goals.
About Ryan Breymaier
Ryan is America's premier shorthanded sailor. He has over 15 years professional experience competing in offshore racing around the world. In 2008 he moved to France to pursue the highest levels of short-handed ocean racing, notably in the IMOCA class.
Ryan's accomplishments include racing double handed nonstop around the world in 2011 and has sailed across the Atlantic 14 times. In 2013 he broke the speed sailing record from New York to San Francisco, in 2014 he won the IMOCA double-handed New York-Barcelona transatlantic race and in 2015 he set no fewer than three Guinness World Record Ocean Passages as skipper onboard 105ft maxi-trimaran 'Lending Club 2'.