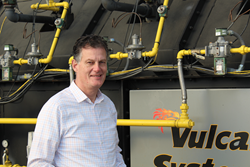 I see a huge opportunity on the horizon to convert what is considered waste products into valuable resources.
Moberly, MO (PRWEB) December 16, 2015
Vulcan® Systems, a world leader and innovator in thermal processing solutions, welcomes a new Technical Director, Paul Santos, to its management team.
Santos' broad-based experience in plant design, manufacturing, set-up, commissioning, training, operations and maintenance spans over three decades, with projects in the United States and abroad. He has had a commanding responsibility for 15 biosolid plants across the globe, from a nine year project with Synagro, to an extensive biosolids management project for New England Fertilizer Company, to several plants in Spain, one of which is a large waste-to-energy generation plant processing 198 dry tons of biosolids per day while generating 25 megawatts. His career focus has been assisting both private sector companies and public companies in increasing revenue, while decreasing their negative environmental footprints.
Preston Whitney, Vulcan® Systems' Vice President of Business Development, explains, "We wanted a person capable of carrying a project from conception through execution and beyond, so our clients would have support for the lifetime of their project. Paul brings a unique skill set. His technical knowledge of waste systems and their operational needs is top notch but really only half the picture. A "people person" in the true sense of the word, his enthusiasm for sleuthing out customer solutions is contagious. He is dedicated to safety, efficiency, training and the bottom line."
While developing solutions to diverse, complex material processing issues, Santos is eager to increase company knowledge in residual waste management, the marketplace in which it lives and the technologies that will move it forward. He is emphatic about teaching safety, so operators understand the precautions and protocols. He remains dedicated to using technical tools to meet the growing challenges of environmental problems facing the world today.
"I see a huge opportunity on the horizon to convert what is considered waste products into valuable resources so I want to focus on the big picture," Santos said. "Recycling, renewing and becoming more efficient, safer and more profitable in operations …those are my goals."
As Santos sees it, "If we can help people think differently about material processing, we will be able to change things for the better for everyone."
Vulcan® Systems' core corporate values are echoed above. We look forward to the opportunity to work with Paul Santos to continue to develop innovative processing technologies and environmental solutions for our customers.
Vulcan® Systems provides a full range of standard and custom equipment for thermal processing, including drying, calcining and thermal desorption. Vulcan® Systems' direct and indirect thermal process technology is used in a wide variety of industries and process applications, including biomass torrefaction, drilling waste remediation, biosolids drying, soil remediation, biomass drying, waste-to-energy processes and many more. For more information, visit http://www.vulcansystems.com.