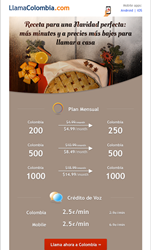 Atlanta, Georgia (PRWEB) December 17, 2015
LlamaColombia.com wants to make this Christmas special for its customers and and their families and friends still living in Colombia. And because there are so many gifts for LlamaColombia.com customers, we will unwrap them one ofter the other:

the rate for calling Colombia landlines decreased from 2.9 ¢/min to 2.5 ¢/min
the rate for calling Colombia mobiles decreased from 6.9 ¢/min to 2.5 ¢/min
Santa did not forget about the monthly plan subscribers and offers them freshly cut rates:

Colombia 200, offering 200 minutes for $4.99 will offer 250 minutes for the same amount.
Colombia 500, offering 500 minutes will cost only $8.49 instead of $10.99.
Colombia 1000, offering 1000 minutes will cost only $14.99 instead of $18.99.
And last, but not least, LlamaColombia.com Facebook page fans are invited to have fun, by tagging their friends who should be on Santa's nice or naughty list. If the friends are tagged on the naughty list, they may still convince Santa they've been good this year, because LlamaColombia.com Facebook campaign starts on December 21st.
The Voice Credit service and the monthly plans are intuitive and easy to use, calls may be placed:

From any landline, mobile or even payphone in the world, through local or toll free access numbers.
Calls may also be placed through the app called KeepCalling, which is not chargeable. The iOS and Android applications may be used to call without having to dial any access number, and even any phone number at all. Once logged in the app, customers can use their phone Contacts list to call.
From any PC with Internet connection, through the Web Call app available in customers' accounts.
LlamaColombia.com customers can also send as Christmas gifts international top-ups to Colombia, using the Mobile Recharge service. Claro, Tigo, Movistar, Uff, Virgin, Avantel, Etb, and Une mobile top ups are available, with values ranging from $5 to $62.5.
LlamaColombia.com's mission is to bring Colombians worldwide closer together and this makes it a reliable partner for Colombian expats: "Es realmente confiable y seguro, una excelente opción, la recomiendo. Vivo lejos de mi familia, y por medio de LlamaColombia puedo enviarles recarga a sus celulares de manera segura y confiable. Realizó el pago y en 5 minutos ya tiene la recarga en su celular." (Katherine, on TrustPilot.com)
Customers can stay updated with all offers and promotions on https://www.facebook.com/LlamaColombia
About LlamaColombia.com:
LlamaColombia.com is an interactive website designed by KeepCalling, a global telecommunications company registered in 2002 in USA. Presently, KeepCalling provides its services to hundreds of thousands of consumers and businesses, with a focus on customer satisfaction. KeepCalling has been listed by Inc 5000 as one of the fastest growing companies in the USA for 5 consecutive years. In 2015 the company registered a revenue increase of over 200% from 2011 to 2014.