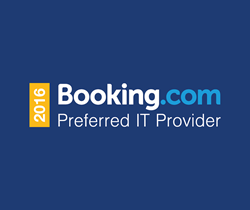 Announcing for the first time that a vacation rental technology partner is "preferred", encourages managers and owners to work with Booking.com
Barcelona (PRWEB) December 17, 2015
Rentals United, a channel manager specializing in Vacation Rentals, is pleased to announce it has been given the official "Preferred Channel Partner" status by Booking.com. Rentals United is one of two companies in the global Vacation Rental Industry to receive this certification on the 15th of December 2015.
Rentals United distributes vacation rental availability, pricing, property information and photos in real-time onto 35+ marketplaces, including Booking.com. Their clients are property managers, owners and Property Management Systems (PMS). PMS around the world use Rentals United expertise to seamlessly connect their clients to tons of channels.
Whilst many companies achieved the "Certified" status, the prestigious "Preferred Partner" status given by Booking.com means that Rentals United accomplished certain key performance criteria. Criteria like innovation, collaboration and relationship are taken into account.
"Announcing for the first time that a vacation rental technology partner is "preferred", encourages managers and owners to work with Booking.com," says Mathias Steyskal, CEO of Rentals United, "They [Booking.com] have been leading the way in the OTA industry to accommodate vacation rentals. The announcement reinforces this and proves the growing trend that vacation rental managers want to offer instant bookings to consumers everywhere."
More and more OTAs, large and niche marketplaces as well travel wholesalers choose to work with Channel Managers specializing in the vacation rental industry. "Channel managers ensure that the availability of vacation rentals is correct, and that is vital for websites offering online bookings," continues Mathias Steyskal, "The industry is maturing and I'm very excited that Rentals United is playing an integral part in expanding the market."
A recent survey conducted by Rentals United with their clients showed that property managers and owners using the platform save a considerable amount of time (20hrs per month on average) and make more bookings from more sources (5-50 more bookings a month depending on the size of the portfolio).
ABOUT RENTALS UNITED
Rentals United provides today's most competitive cloud-based distribution solution that connects to both large & niche marketplaces. Established in 2013 by the founders of some of the leading holiday rental agencies, the company aims to become the most innovative, profitable, world's leading channel management platform for vacation rentals. Backed by 2 rounds of private investment, Rentals United is currently expanding on all 5 continents.
For any press related inquiries please email Vanessa de Souza Lage vanessa [at] rentalsunited.com or call +44 (0)207 118 1160