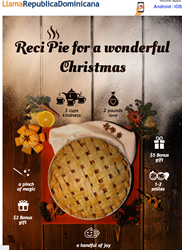 Atlanta, Georgia (PRWEB) December 17, 2015
Christmas is a time to give and Dominican traditions talk about generosity and sharing. But what happens when family members or friends are living miles away from each other, especially on Christmas? Instead of exchanging gifts, Dominicans can exchange Christmas wishes through long calls. This year, calls can last longer due to LlamaRepublicaDominicana.com's promotion: for every Voice Credit order above $20 they place, customers receive $2 bonus, and for every Voice Credit order above $40 they place, customers receive $5 bonus.
The offer is valid starting December 17th and lasts until December 19th. The rates for calling the loved ones still living in the Dominican Republic are as low as 2.5¢/min for landlines and 7.9¢/min for mobiles.
And Christmas surprises are not over yet. LlamaRepublicaDominicana offers its customers another possibility to get in touch with their friends: by tagging them on Santa's naughty or nice list, on LlamaRepublicaDominicana.com Facebook page. If the friends are tagged on the naughty list, they can still convince Santa they've been good this year, because LlamaRepublicaDominicana.com Facebook campaign starts on December 21st.
Beside Voice Credit, LlamaRepublicaDominicana.com also offers Mobile Recharge, a service through which customers can recharge mobile phones anywhere in the world. The process is fast and secure and the credit reaches its destination instantly. The mobile operators available for recharges to the Dominican Republic are Claro, Orange, Viva, Tricom, and Moun.
To feel home closer, customers can also use the Virtual Number service LlamaRepublicaDominicana.com offers, a monthly subscription created for the benefit of people back home. Using this service, anyone calling the customers' Virtual Number will pay the regular rate of a local call.
LlamaRepublicaDominicana.com is available both in English and Spanish, so customers can navigate using the language that is more familiar to them. Within the same purpose of finding the information needed easily, the website also offers 24/7 Customer Support, that can be contacted by email or phone.
About LlamaRepublicaDominicana.com:
LlamaRepublicaDominicana.com is an interactive website designed by KeepCalling, a global telecommunications company registered in 2002 in USA. Presently, KeepCalling provides its services to hundreds of thousands of consumers and businesses, with a focus on customer satisfaction. KeepCalling has been listed by Inc 5000 as one of the fastest growing companies in the USA for 5 consecutive years. In 2015 the company registered a revenue increase of over 200% from 2011 to 2014.